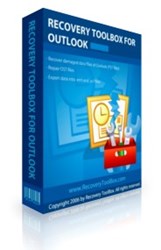 Recovery Toolbox for Outlook software] always guarantees the safety of personal information for processed mailboxes.
Alexandria, VA (PRWEB) January 30, 2013
The service of Outlook recovery, provided by means of Recovery Toolbox for Outlook data recovery software, permits recovering MS Outlook folder with higher efficiency than before, it is possible due to the usage of more sophisticated data restoration algorithms, explains Victor Bobrov, founder of Recovery Toolbox software. Like before, Outlook recovery solution can be applied to any version of mailbox in this format so there is no need to worry about possible compatibility problems. This application is fully automated and supports all instances of Outlook recovery, under all possible PC hardware configurations in use. In the same time, the developer reminds that more powerful hardware may considerably improve the speed of analysis.
Recovery Toolbox for Outlook always guarantees the safety of personal information for processed mailboxes, the engine of Outlook recovery works offline and never sends user information to any location outside the PC workstation in use. This approach to Outlook recovery provides the integrity of all data, stored in MS Outlook folders and prevents the leakage of contacts, messages and other sensible information during the analysis of selected document. Besides other advantages, Recovery Toolbox for Outlook is absolutely free to try therefore its users may get the detailed evaluation of their chances for Microsoft Outlook recovery and plan further data recovery activities if this approach is not acceptable in your personal case.
Recovery Toolbox software vendor works on data recovery tools for more than ten years therefore it has a lot of experience in developing software solutions for more than twenty popular data formats. This company permits free evaluation for all of its solutions therefore users may evaluate the efficiency of analysis and friendly interface of Recovery Toolbox programs before buying. The address of Recovery Toolbox is the following:
Find more at official software site: http://www.outlook.recoverytoolbox.com/ , Outlook recovery software described at http://www.outlook.recoverytoolbox.com/ page.