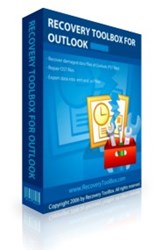 The new version comes full of new features and offers a whole new level of performance thanks to a totally reworked recovery engine.
(PRWEB) October 11, 2012
The updated version is based on a brand-new data analysis and Outlook repair algorithm that results in a manifold performance and quality boost. The new algorithm is a lot more flexible and can be infinitely enhanced by adding new analysis schemes, which guarantees that lifetime license holders will always be getting the best possible speed and quality. Recovery Toolbox for Outlook supports the recovery of all Outlook data to PST files of configurable size (for backward compatibility with older versions of Outlook with file size limitations) and saving of the contents (including the folder structure) of Outlook PST files to MSG files that can be drag-n-dropped into Outlook manually later on. Direct PST to PST recovery is only possible if Outlook is installed on the same system that the Outlook repair attempt is taking place on. Recovery Toolbox for Outlook can also convert OST files to the PST format.
"We have always treated this product in a special way," notes Victor Bobrov, member of the Recovery Toolbox team. "This is one of the oldest products and we've invested a colossal amount of time and effort into making it the best solution of its kind on the market. The recent major update made the gap even wider – we are now ahead of competition in every aspect, and that's good news for us and our clients."
Recovery Toolbox for Outlook is a uniquely functional, fast and accurate Outlook repair solution for comprehensive recovery of Outlook data damaged after all kinds of accidents – from a power failure of virus attack to user's own careless experiments with the file system.
About Recovery Toolbox
Founded in 2003, Recovery Toolbox is currently the leading provider of data recovery tools for a broad range of programs. The growing portfolio of Recovery Toolbox consists of over 30 award-winning solutions intended primarily for mainstream applications used by millions of people worldwide. The company is committed to creating intuitive and user-friendly tools that help regular users solve complex data recovery and migration problems on their own.
Read full description at: http://www.recoverytoolbox.com/repair_outlook.html
Software Site: http://www.recoverytoolbox.com/