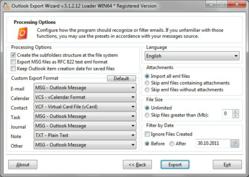 Convert Outlook emails and contacts to wide range of data formats (Word, HTML, TXT and so on).
Sacramento, CA (PRWEB) October 23, 2012
Business offers, financial records, personal missives – all of this information and more is stored in email inboxes. Yet Microsoft Outlook does not have a built-in method to save Outlook e-mails in another format. The primary option of Outlook Export Wizard is export outlook emails and contacts. Outlook Export Wizard offers users a new option for converting emails in just minutes. This method is safe and does not affect the original source files, while preserving all subject, folder structure, and other message information.
No previous knowledge is needed to use Outlook Export Wizard. All that is necessary is to follow the on-screen instructions. Outlook emails are safely exported into a new format such as .msg, .eml, .pst, .rtf, .txt, HTML, or even Word files. These formats allow placing Outlook emails in another email program, in a text editor–friendly format, or even on the web. By exporting messages in MSG format, it is easy to back up important emails to another disk; Word format makes it simple to print out an imposing list of emails. Users have control over which messages are exported, with the help of filters based on attachments, size, and date.
To use the program, select the root folder that contains the Outlook message database, preview the results, and click "Export". No changes are made to the source messages – conversion cannot, in any circumstances, harm the original data. Compatibility with 64-bit versions of Outlook is also included. What's more, Outlook Export Wizard supports more than just emails: the program can process Outlook calendar entries, notes, contacts, and other personal information. For the first time, all Outlook information is easily and safely available for use by other programs – that's the power of Outlook Export Wizard available to everyone!
Download Software: http://www.outlookimport.com/description/outlook-export-wizard/
Manufacturer: http://www.outlookimport.com/
Bonus (free email extractors): http://www.outlookimport.com/free-email-extractor/