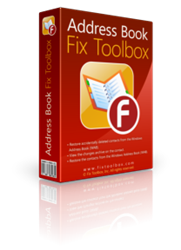 a specialized recovery tool for the Outlook Express address book.
Sacramento, CA (PRWEB) May 29, 2013
Fix Toolbox, one of the leading suppliers of efficient, reliable and easy to use file repair and data recovery tools, announces the release of Address Book Fix Toolbox, a specialized utility for restoring contacts from damaged Outlook Express address books in the *.WAB format. The software parses damaged address book files and extracts individual records as VCF documents that can be easily re-imported. This Outlook Express address book fix takes much after other Fix Toolbox products in terms of the simplicity of the user interface and ease of use. The UI of the product uses a multi-step wizard to take the user from A to B in the shortest time possible, while the program's advanced engine makes sure that all recoverable records are extracted accurately. The product has a clear and convenient user interface that enables users to preview the contents of corrupted WAB files in their entirety and then perform the necessary recovery actions. Address Book Fix Toolbox supports all versions of Windows, from Windows 98 to Windows 7.
"Emails can get lost, IM history can get erased, but there is nothing worse than losing contacts," commented Boris Bobrov, Senior Product Manager at Fix Toolbox. "Our Outlook Express address book fix is exceptionally efficient and intelligent enough to handle the worst cases of data corruption. The new version of the program has been considerably improved, so you can rest assured that you are using one of the best solutions on the market."
The trial version of the program is available free of charge from the manufacturer's website.