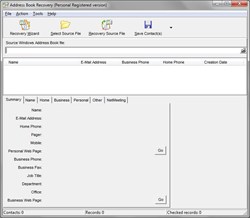 a compact and highly efficient tool for restoring contacts from damaged Windows Address Book (WAB) files.
Alexandria, VA (PRWEB) October 23, 2012
Recovery Toolbox, a well-known developer of specialized data recovery tools for a wide range of popular applications, expands its portfolio by releasing Address Book Recovery, a convenient tool for Outlook Express address book recovery. The software enables users to restore their contacts from Windows Address Book (WAB) files damaged in file system incidents of any nature. In addition to its primary function, the program is also capable of restoring contacts that were accidentally deleted from WAB files. When recovering records from a corrupted file, Address Book Recovery does not modify the source in any way and cannot damage data further. The software reads the structure of the damaged WAB file, analyzes it and saves the recovered records in the form of Business Card (vCard) files that can be immediately re-imported or shared with other users. Address Book Recovery has an intuitive user interface with just enough controls to perform the Outlook Express address book recovery with a few mouse clicks.
"I had a major system crash due to a power failure right when I was sorting my contacts," says Michael Hopper, the user of Address Book Recovery. "I had several hundred contacts with no backup at all, and the address book appeared blank when I rebooted the system after the crash.
Saying that I was frustrated would be a gross understatement. Fortunately, I came across Address Book Recovery and it took this handy little utility just a few seconds to pull all of my contacts from the damaged file! Thank you for a real life saver, guys!"
About Recovery Toolbox
Founded in 2003, Recovery Toolbox is currently the leading provider of data recovery tools for a broad range of programs. The growing portfolio of Recovery Toolbox consists of over 30 award-winning solutions intended primarily for mainstream applications used by millions of people worldwide. The company is committed to creating intuitive and user-friendly tools that help regular users solve complex data recovery and migration problems on their own.
Product Page: http://www.oemailrecovery.com/address-book-recovery.html
Official site: http://www.oemailrecovery.com/