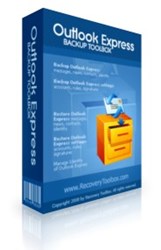 a New All-in-One Solution for Automated and Ad Hoc Backups of Outlook Express Data.
Alexandria, VA (PRWEB) October 05, 2012
Recovery Toolbox expands its family of award-winning tools and gladly presents Outlook Express Backup Toolbox – the most efficient Outlook Express backup solutions that provides the flexibility requested by pro's and ease of use so sought for by novices.
Regular data backups have always been and will always be the only guaranteed method of protecting personal or business data from all kinds of incidents. Like many other email applications, Outlook Express does not have an integrated backup tool, and users are forced to use third-party software like Outlook Express Backup Toolbox to close this functional gap.
Outlook Express Backup Toolbox (how to use description) takes the user through the backup or restoration process in a series of short steps, thus minimizing the risk of making a mistake and requiring a bare minimum of user's input. For backup, the program enables the user to select the desirable compression ratio, volume size for multi-volume backups, encryption type and password for extra protection of the backup file. In addition to backing up solutions, the user can easily restore data and, moreover, passwords.
"The program is capable of backing up and restore all Outlook Express object types and even passwords, so it's not limited to emails only like most of its competitors, "explains Victor Bobrov, founder of Recovery Toolbox." Besides, we offer tight integration with the standard Windows scheduler, which makes it possible to automate the backup creation process in a few clicks."
Outlook Express Backup Toolbox has a 30-day evaluation period with no functional limitations, thus allowing everyone to test it thoroughly prior to purchasing a license.
Click here to Download Outlook Express Backup Toolbox
About Recovery Toolbox
Founded in 2003, Recovery Toolbox is by right the leading provider of data recovery tools for a broad range of programs. The growing portfolio of Recovery Toolbox consists of over 20 award-winning solutions intended primarily for mainstream applications used by millions of people worldwide. The company is committed to creating intuitive and user-friendly tools that help regular users solve complex data recovery and migration problems on their own.
Product Page: http://www.recoverytoolbox.com/outlook_express_backup.html
Software Site: http://www.recoverytoolbox.com/