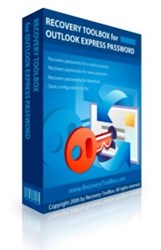 A fast and convenient tool for hassle-free recovery of forgotten passwords.
Alexandria, VA (PRWEB) October 10, 2012
One of the key advantages of Recovery Toolbox for Outlook Express Password is its interface – clear, intuitive and with just enough controls for everyone. The program was designed for users looking to perform Outlook Express password recovery on their own under a tight deadline, with a maximum chance of success and guaranteed assistance from the authors of the software.
"Virtually every user of the Windows operating system has Outlook Express installed by default. For many, this program becomes the starting point in their familiarization with email clients and email on the whole. The lack of experience may result in forgetting or losing passwords – and that's when Recovery Toolbox for Outlook Express Password can and will help," notes Victor Bobrov, a senior developer at Recovery Toolbox. "Our solution saves novices the hassle of using expensive passwords recovery services and allows them to recover Outlook Express data completely on their own, which is great!"
Apart from its primary function - Outlook Express password recovery – the tool is also capable of storing Outlook Express account settings, such as usernames, passwords, incoming and outgoing server names. Users with multiple accounts will appreciate the possibility of recovering passwords to each identity and objects within them.
Recovery Toolbox encourages the potential users of this Outlook Express password recovery tool to download its free time-limited demo version that recovers and shows actual passwords.
About Recovery Toolbox
Founded in 2003, Recovery Toolbox is currently the leading provider of data recovery tools for a broad range of programs. The growing portfolio of Recovery Toolbox consists of over 30 award-winning solutions intended primarily for mainstream applications used by millions of people worldwide. The company is committed to creating intuitive and user-friendly tools that help regular users solve complex data recovery and migration problems on their own.
Software Site: http://www.recoverytoolbox.com/
How to use instruction: http://www.recoverytoolbox.com/help_outlook_express_password.html