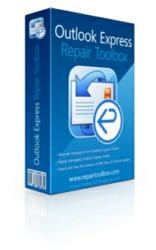 The program addresses the problem of damaged Outlook Express DBX files and provides everything necessary for fast and efficient data recovery.
(PRWEB) October 16, 2012
Outlook Express Repair Toolbox is a new product from Repair Toolbox that helps users quickly get back on track after data corruption incidents involving their Outlook Express DBX storage files. The program supports all major versions of Outlook Express and Windows, has extremely modest system requirements and can be efficiently used by users who have never dealt with data recovery in any shape or form. The intuitive interface makes it impossible to make a mistake and damage the source file further.
"The moment my computer died on me, I didn't realize that all of my email would be gone as well," says Edward Perez, one of the users of the program. "It simply wouldn't open after I had the PSU replaced and started my PC again. I had spent a whole day looking for the right program until I found Outlook Express Repair Toolbox. The program is a blast! I took me just a few minutes to restore everything to the last message. The price is just right and the result is far beyond my expectations. Thank you!" Read More.
Outlook Express Repair Toolbox is a specialized Outlook Express repair solution that supports files larger than 2 GB, saves messages and attachments, outputs restored data to *.EML files preserving folder types and structure, works with emails in plain text, RTF and HTML formats and supports the batch mode for automatic data recovery from multiple DBX files. As a tool intended for the widest audience possible, the program has a clear and unambiguous interface in the MS Office style that requires minimal time for familiarization.
An evaluation version of the program can be downloaded from the official website of Repair Toolbox http://www.repairtoolbox.com.
Official site: http://www.repairtoolboxx.com/