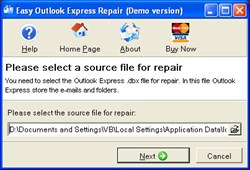 Easy Outlook Express Repair, the most powerful, fast and feature-packed Outlook Express repair tool on the market.
Alexandria. VA (PRWEB) February 04, 2013
MailRepair Team is glad to announce the recent release of the updated and largely improved Easy Outlook Express Repair, a popular Outlook Express repair tool that helps users restore email messages, attachments and news items from corrupted Outlook Express DBX files.
The newest version of the software is based on a completely reworked data analysis and recovery algorithm that enables this Outlook Express repair tool to efficiently cope with the most serious data corruption cases. Recovered items are extracted to a user-defined folder and saved in the EML format, facilitating their further import into alternative email applications, archiving and conversion. Featuring a simple, easy-to-use and convenient interface, this Outlook Express repair solution is a perfect fit for users of all skill levels looking for one-time or regular recovery of data from damaged Outlook Express DBX files.
"Since Outlook Express is often used by people with no serious IT background, our initial idea was to create a tool that would solve data corruption problems in a couple of clicks," says Victor Bobrov, Senior Product Manager at MailRepair. "The tool turned out to be a massive success and we had no other option but to make it even better. The new release brings more stability, improved speed and outstanding efficiency of the Outlook Express repair process."
Easy Outlook Express Repair fully supports DBX files over 2 GB in size and batch recovery of data from files created in Outlook Express 5, 5.5 and 6.
Complete features description is available at official http://www.mail-repair.com/ site of the Easy Outlook Express Repair software.