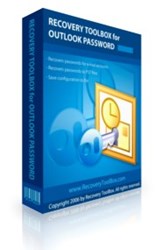 a specialized tool for quick and accurate Outlook password recovery by users with any skill level.
Alexandria, VA (PRWEB) October 09, 2012
The new release of Recovery Toolbox for Outlook Password brings new features, more stability and even better performance. Independent performance tests show that Recovery Toolbox for Outlook Password is one of the leading products of its type. Based on a proprietary Outlook password recovery engine, the program is capable of recovering passwords for Outlook email accounts, LDAP services and standalone Outlook PST files. The following password-protected objects and services, as well as their settings are revealed by the program: POP3 and IMAP mail servers, HTML mail servers, such as Hotmail or MSN, Microsoft Mail, Microsoft LDAP directory and Microsoft Exchange Server. In addition to Outlook Password Recovery, this tool is capable of saving complete information about Outlook identities to a plain text file. The latest release also brought about a possibility to remove PST file passwords with a single mouse click.
"Our aim was to create a compact tool that would collect full information about Outlook identities, reveal each and every password in them and yet have a few extra features, like one-click password removal or saving profile summaries as plain text," explains Victor Bobrov, the founder of Recovery Toolbox. "I guess we did our homework and got it all right – this program is one of our bestsellers with very positive feedback."
The demo version of the program conceals some letters in recovered passwords, but demonstrates the rest of the program features without limitations. Usage instruction is available at recovery toolbox site.
About Recovery Toolbox
Founded in 2003, Recovery Toolbox is currently the leading provider of data recovery tools for a broad range of programs. The growing portfolio of Recovery Toolbox consists of over 30 award-winning solutions intended primarily for mainstream applications used by millions of people worldwide. The company is committed to creating intuitive and user-friendly tools that help regular users solve complex data recovery and migration problems on their own.
Product Description: http://www.recoverytoolbox.com/outlook_password.html
Site: http://www.recoverytoolbox.com/