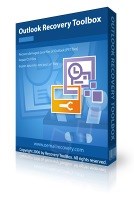 Outlook Recovery Toolbox, the company's flagship product that has been updated with a host of internal improvements.
Sacramento, CA (PRWEB) June 18, 2013
Recovery Toolbox, a well-known supplier of top-grade software solutions for data recovery and file repair, announces the release of the newest version of Outlook Recovery Toolbox, the company's flagship solution used by thousands of customers across the world. The new version of the software is based on a considerably modified file analysis engine that now combines several algorithms to find and extract as much recoverable data as possible. The authors of the program used a multi-step wizard in the program UI to ensure that even the least experienced users would have no problems getting from file selecting to saving data. This Outlook PST repair tool finds and restores email messages, attachments, contacts, notes, tasks, appointments and journal entries. Recoverable objects can be saved to a new PST storage file or folders on the user's hard drive. Outlook Recovery Toolbox automatically searches for Outlook profiles and PST files and prompts the user to select the necessary one. The rest of the Outlook PST repair process is performed automatically and does not require any user involvement.
"Finding the right balance between functionality and ease of use is always hard, since you always have to compromise one thing to improve the other one," says Victor Bobrov, Senior Product Manager at Recovery Toolbox. "We believe we have found such a balance in Outlook Recovery Toolbox – being very complex and intelligent on the inside, it remains a no-brainer on the outside. And that's exactly what thousands of our users really appreciate!"