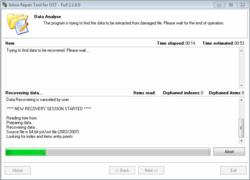 Don't miss 85% Christmas Discount! Coupon code: XMAS85
Sacramento, CA (PRWEB) November 26, 2012
Microsoft Outlook uses PST files to store emails, attachments, contacts, and other user information. These files grow enormous (gigabytes in size), and with it, the risk of damage. Time is of the essence when recovering months or years of critical correspondence! Normal data recovery utilities aren't up to the task: the special format and bulk of PST files makes their contents hard to access for ordinary data recovery programs. Inbox Recovery Tool for Outlook is a reliable data recovery solution that restores emails, contacts, and other data as quickly as possible, with an intuitive interface that requires no special computer knowledge.
How is Inbox Recovery Tool so effective? Knowing the structure of PST files, Inbox Recovery Tool uses multiple passes to scan the headers, signatures, and indexes contained inside them. The data found using these "clues" is displayed on the PST data preview page of the program. Then the repair tool saves the recoverable data to a separate file, in either the "old" or "new" PST formats used by different versions of Outlook. These files contain the recoverable information from the original PST file. The new, undamaged PST file that contains the recovered emails is then easily imported back into Microsoft Outlook. No hassles and no panic required.
Although data loss is intimidating, Inbox Recovery Tool for Outlook is anything but. The program walks users through the three steps necessary to find and save the data, resolving the nuances of recovery (32- or 64-bit version of Outlook?) behind the scenes. When the going gets tough, the tough get going – to find the right tool for the job. And if the job is to recover corrupted or lost Outlook emails, Inbox Repair Tool is the only tool that users will ever need.
For a limited time (till 24 Dec) we offer the ultimate 85% discount to all PRWeb readers. Using the coupon code XMAS85 you may purchase the usage license with 85% discount. We only ask you to download the software ant check if it works properly in your environment prior to order it.
Official software description: http://www.outlook-pst.com/inbox-repair-tool-for-outlook/
Purchase page: http://www.outlook-pst.com/inbox-repair-tool-purchase/