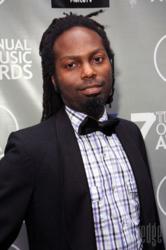 I believe any artist who has the courage to live openly and honestly is a winner.
(PRWEB) June 01, 2011
The reggae flavored anthem, "Gay Warrior Song" required 7 years and 2 versions before it felt complete. However all the care and effort paid off at the 7th Annual OUTMusic Awards, when Guyanese singer/songwriter Nhojj won the trophy for OUTStanding R&B/Soul song of the year. It is the first time in the history of the OUTMusic Awards, an African-American artist has had 2 consecutive wins. Last year Nhojj won for his song "Love" becoming the first Black male to win an OMA, and earning congratulations from BET/Centric's Soul Sessions for being "a Black history and a gay history first!"
Nhojj joined an impressive list of winners and honorees. Other artists giving acceptance speeches included Country music singer Chely Wright (Vanguard Award), The Village People's Randy Jones (Heritage Award), and Living Legend Paula "Styx" Hampton. Christian artist Ray Boltz nabbed 3 awards, Melissa Etheridge (Lifetime Achievement) video tapped a personal thank you, and B Slade performed a tribute to Disco Icon Sylvester.
"The OMAs are exciting and taking home a trophy is a wonderful honor" Nhojj explains, "but I believe any artist who has the courage to live openly and honestly is a winner. I'm happy more artists are discovering their power and using their voices to advance equality."
Dubbed the biggest night in LGBT music, the Live Nation/Logo TV sponsored gala ceremony is produced annually by The LGBT Academy of Recording Arts (LARA). LARA is the premiere non-profit organization dedicated to empowering and presenting it's 1,000+ members to broader audiences, raising awareness, and ensuring that contributions LGBT artists make to the Music Industry are acknowledged and celebrated.
Last year the "Gay Warrior Song" (also nominated for OUTStanding Songwriter) peaked at #1 on CDbaby's Out & Proud chart, and was a staple on Nhojj's 2010 Gay Pride Tour. Along the 8 city tour, Nhojj shared stages with 80's pop icon Taylor Dayne and Gay Recording Legend Jimmy Somerville, before wrapping up in Munich, Germany. The "Gay Warrior Song" is produced by Nhojj and mastered by Robert Honablue, whose gold and platinum credits include Bob Marley, Santana, Aretha Franklin, and Jimi Hendrix. Proceeds from the sale of the single go to SASOD (Society Against Sexual Orientation Discrimination), an LGBT Rights organization in Nhojj's native Guyana.
"I'm proud to be using my talents to help make this world a better place. I believe music has a tremendous power to heal, affirm, and empower." - Nhojj says.
To date Nhojj has released 6 CDs, 9 Singles, and an Unplugged DVD filmed by Emmy nominated director Bill Cote. Earlier this year, he debuted a groundbreaking "Amazing Grace" music video supporting marriage equality, a follow-up to his #1 MTV Music gay video "Love."
"The 'Gay Warrior Song' is dedicated to all the gay warriors around the world who are fighting for Love," Nhojj said in his acceptance speech. "Love belongs to us all… it always has and it always will, we must hold this truth in our hearts and let it flow out into the world."
Follow Nhojj
http://nhojj.com
http://twitter.com/nhojj
http://youtube.com/nhojjmusic
http://facebook.com/nhojjmusic
###