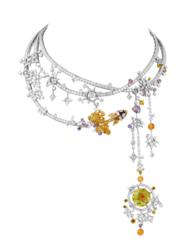 The first exhibition of its kind, it is only natural that there would eventually be an exploration of the beauty of space and its translation into adornment.
New York, NY (PRWEB) February 27, 2013
Curated by Elyse Zorn Karlin, co-director of ASJRA (The Association for the Study of Jewelry and Related Arts, LLC), Out of this World! Jewelry in the Space Age features pieces from over 100 designers and lenders, and a limited edition catalog will be available for purchase to commemorate this extraordinary exhibition.
Covering a variety of space-related themes through the context of materials and design, the exhibit also includes vintage memorabilia and art objects relating to space. Jewelry with space motifs from the Georgian period through contemporary work will be on display, as well as jewelry made from materials that come from outer space, such as: tektite, meteorite, pallasite, moldavite and moissanite. One of the exhibition highlights is Van Cleef and Arpels' Tampa Necklace, featuring detachable space-themed component parts, from a private collection. Additionally, the Lunar Landing Pendant by Van Cleef and Arpels will be on view, which was made to commemorate the first walk in space. Sputnik, Halley's Comet, moon, star and planet-themed jewelry will also be seen, with abundant examples in both fine and costume jewelry.
Bonnie Kirschstein, Managing Director of The Forbes Galleries, says, "We are delighted to be hosting an exhibition which explores the complex and aesthetically inspiring relationship between outer space and jewelry. The first exhibition of its kind, it is only natural that there would eventually be an exploration of the beauty of space and its translation into adornment. I am very much looking forward to opening the doors to the public and seeing their reaction to the pieces—there are so many interesting stories in Out of this World! that will be told in the exhibition. "
The inclusion of an 18K gold Lunar Landing Module replica created by Cartier, designed to celebrate the first walk by man on the moon, is another treat viewers can look forward to. Three of them were created for the astronauts that flew on the Apollo 11 mission and were gifts from Le Figaro newspaper. The one in this exhibition was given to astronaut Michael Collins. There will also be a unique watch on display made for the Jet Propulsion Laboratory, which tells time in Mars time.
Jewelry that has been flown in outer space will also be featured at The Forbes Galleries. Ed White II's West Point ring, worn in space, will be donated to West Point after the exhibition ends. The first man to walk in space, Ed White II died tragically in the Apollo I fire. Jewelry worn and flown in space by astronaut Cady Coleman will also be on view. Coleman has flown in two space missions, which includes spending 159 days on the International Space Station as a member of Expedition 27; she also served as the Chief of Robotics for the Astronaut Office.
On loan from Beads of Courage, will be 'flown in space' beads. This organization is dedicated to providing programs and support for children coping with serious, life-threatening illnesses. Beads of Courage commissions bead artists to create encouraging bead mementos for young patients. A symbol of courage given to children fighting cancer, these beads—which have been flown in space—represent taking hold of the courage one has and moving forward to face the unknown. The beads have been flown on several shuttle missions.
Donald Claflin's Man in the Moon Clip Earrings for Tiffany & Co. which once belonged to Gloria Vanderbilt, as well as Bjorn Weckstrom's "Princess Leia Necklace", named because Carrie Fisher wore the same one in the wedding scene in Star Wars, are not to be missed. Additionally, jewelry created from materials created for the space race will also be featured, including jewelry made of: polymer, nitinol, dichroic glass, titanium and fiber optic glass.
A lecture series in conjunction with the exhibition will be announced shortly. Additionally, a limited edition 52-page exhibition catalog is available for purchase by sending a check for $35 + $5 postage to ASJRA, 246 N. Regent Street, Port Chester, NY, 10573. Entrance to the exhibition is free for the public. The galleries are open from 10 a.m.-4 p.m. on Tuesdays through Saturdays at The Forbes Galleries, 60 Fifth Avenue, New York, NY. Group tours can also be arranged by emailing ekarlin(at)usa.net. For press inquiries regarding Out of This World! Jewelry in the Space Age, contact Olga Gonzalez, Pietra PR, at info(at)pietrapr.com.