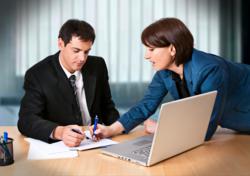 We help candidates at all levels, from their first day on the job to C-Suite executives with more than 20 years of experience.
Des Moine, Iowa (PRWEB) October 10, 2012
Prositions, Inc., a talent transformation and transition firm, is now offering Leadership Development and Performance Coaching as a part of its Full Talent Lifecycle Support strategy.
"Developing effective leadership talent is critical for an organization's success. Even the best leadership training programs experience a significant reduction in effectiveness during the first few weeks after completion when supervisors, managers and executives return to the grind of the real world," said Frank Russell, CEO of Prositions. "Our new Leadership Coaching program uses powerful online assessments and the latest cloud-based and virtual technology to deliver a highly effective solution."
Many organizations do not have internal coaching services available and traditional mentoring programs may be too expensive or ineffective. This unique virtual approach allows Prositions to deliver world-class coaching solutions to organizations of all sizes, industries and locations, at a fraction of the cost of traditional programs.
"It all starts with highly qualified and experienced coaches and mentors that have decades of experience dealing with leadership development issues and challenges," said Peter O'Neill, Senior Executive Coach at Prositions, "We help candidates at all levels, from their first day on the job to C-Suite executives with more than 20 years of experience."
Prositions helps an organization lay out a strategic development plan, integrate new employees through a variety of onboarding programs, and groom experienced leaders to take on higher levels of responsibility. They can also help organizations develop their own leadership and talent management strategies, and assist organizations with the identification of key competencies that its leaders must develop in order to meet the organization's overall goals.
"In some instances organizations may want to prepare highly promotable candidates for leadership positions," said Craig Robbins, Senior Leadership Coach. "As a part of our New Leader Mentoring Program, we provide assessments, assignments, exercises, and courses along with expert mentoring services to help prepare these candidates for their new leader role."
Prositions Inc. is a rapidly growing career coaching and consulting firm that offers a variety of solutions for Full Talent Lifecycle Support. These solutions range from talent acquisition, development and retention services to career transition and outplacement support. Prositions does this in a unique way by combining the power of technology with an international network of certified career experts. For more information about Prositions and their unique solutions, visit them on the web at http://www.prositions.com.