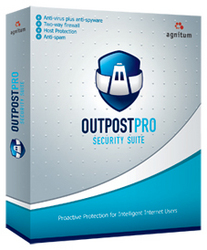 We'd like to thank Matousec lab for another thorough examination of Outpost security, this time the all-in-one solution - Outpost Security Suite Pro 2009. By becoming one of the leaders in this latest test we demonstrated the futility of opposing our standalone firewall product and security suite when it comes to proactive protection and resistance to leaktests
St. Petersburg, Russia (PRWEB) February 25, 2009
The security experts at Agnitum, the leading personal firewall developer, are pleased to announce that the latest improved version of Outpost Security Suite Pro (OSS) 2009, released on February 14, 2009, has come out on top in the most recent Firewall Challenge test. This security research, performed by Matousec Transparent Security (http://www.matousec.com) on February 15, 2009, put Outpost ahead of 15 security suites - with an "excellent" mark.
Receiving a leading 93 % efficiency rating in leak-tests, termination and performance tests, OSS 2009 beat out more than 35 other personal firewalls and security suites tried against up to 84 latest "Firewall Challenge" tests.
A leaktest is a program designed to determine if a firewall's outbound protection can be bypassed using specific techniques. A failure in any leaktest indicates that the software is unable to prevent the user's data from leaking out if that particular technique is used by a hacker or other malware, hence the term "leaktest". Many of the techniques used in Matousec's leaktests are already in use by real-world malware: spyware, Trojans, keyloggers, worms and other cyber threats. The leaktest score is as important for a personal firewall and/or security suite software as a crash-test for a car: you never expect the circumstances to be tested, but it is better to have close to 100% protection than to cross your fingers.
Leaktests are not the only challenge security software should be able to resist. Matousec Transparent Security also analyses firewall efficiency in:

general bypassing tests that emulate malware attempts to bypass protection generally without targeting specific components
termination tests that emulate attempts to disable the product and its defense functions;
spying tests (including keyloggers and packet sniffers) that test whether a product is able to prevent malware from spying on a user's data
performance tests
Matousec Transparent Security has recently implemented a new, even stricter and more challenging, methodology of testing, which is described on the researcher's web-site at http://www.matousec.com. Detailed test results are available at http://www.matousec.com/projects/firewall-challenge/results.php.
"We'd like to thank Matousec lab for another thorough examination of Outpost security, this time the all-in-one solution - Outpost Security Suite Pro 2009. By becoming one of the leaders in this latest test we demonstrated the futility of opposing our standalone firewall product and security suite when it comes to proactive protection and resistance to leaktests", said Maxim Korobtsev, Chief Technical Officer at Agnitum.
Agnitum's products have focused on strong outbound protection since the first version of Outpost some seven years ago, the same applies to our integrated solution - Outpost Security Suite Pro 2009. More information about the product is available at http://www.agnitum.com/products/security-suite/index.php.
About Agnitum
Founded in 1999, Agnitum Ltd. (http://www.agnitum.com) is committed to delivering and supporting high-quality, easy to use security software. The company's products are standalone Outpost Firewall Pro and Outpost AntiVirus Pro, securing personal and family desktops; Outpost Network Security, ensuring reliable endpoint protection and performance for small business networks; and Outpost Security Suite -- an all-in-one Internet security solution.
For more information, please contact:
Pavel Goryakin
Agnitum Ltd.
Skype: goryakin
Blog: agnitumblog.blogspot.com
###