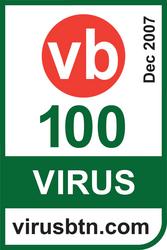 the product looked good and proved pleasant to work with, offering a wide range of modules which sadly went unexplored. With good detection across the test sets and no false positives generated in the clean sets, Agnitum earns a VB100 award
St. Petersburg, Russia (PRWEB) December 13, 2007
Internet security experts Agnitum announced the results of the latest (December 4) anti-virus tests carried out by Virus Bulletin magazine on Outpost Security Suite 2008 and 32 other personal anti-virus and security suite products running under Windows 2000. The VB 100 award is an important indicator of competency in virus and spyware detection and timely updates - crucial factors in the battle to resist evolving malicious software. By achieving 100% for its anti-virus capabilities in these tests, Outpost Security Suite Pro clearly shows that it is fully compliant with today's requirements for effective anti-virus protection.
According to Virus Bulletin, "the product looked good and proved pleasant to work with, offering a wide range of modules which sadly went unexplored. With good detection across the test sets and no false positives generated in the clean sets, Agnitum earns a VB100 award".
Outpost Security Suite Pro 2008, Agnitum's all-in-one solution based on the award-winning Outpost Firewall Pro 2008, offers:

All-in-one anti-malware for comprehensive antivirus and antispyware defense, with SmartScan technology to boost scanning speed;
A two-way firewall to safeguard connections and prevent data leakage;
Host protection to protect against zero-day threats and sophisticated malware;
Web control for safe surfing and blocking unwanted content;
Self-learning anti-spam that integrates directly into Microsoft Outlook, Outlook Express and Vista Mail.
The new Vista-compatible architecture of Outpost Security Suite 2008 provides all-round protection - in addition to detecting viruses, spyware and adware by signatures, the product incorporates proactive protection that prevents zero-day threats and leakage of confidential data.
"The Outpost Pro 2008 product line represents a new generation of Agnitum's security solutions," comments Mikhail Penkovsky, Vice President of Sales & Marketing for Agnitum. "All our products are now compatible with every version of Windows from 2000 onwards and support both 32 and 64-bit platforms. This award is a great reward for the past two years of re-architecting the product, on top of our nine years in developing security applications."
The VB100 award comes hot on the heels of another 100% award on November 2, 2007, when Agnitum's flagship product Outpost Firewall Pro 2008 scored 100 % in the Matousec Transparent Security (http://www.matousec.com) leak tests, beating out more than 40 competiors.
The latest editions of Outpost Firewall Pro and Outpost Security Suite Pro 2008 are available for download at http://www.agnitum.com/products/outpost/download.php and http://www.agnitum.com/products/security-suite/download.php respectively.
About Agnitum
Founded in 1999, Agnitum Ltd. (http://www.agnitum.com) is committed to delivering and supporting high-quality, easy to use security software. The company's products are Outpost Firewall Pro, securing personal and family desktops; Outpost Network Security, ensuring reliable endpoint protection and performance for small business networks; and Outpost Security Suite -- an all-in-one Internet security solution.
###