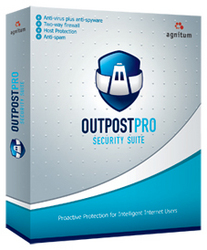 St. Petersburg, Russia (PRWEB) July 22, 2009
The security experts at Agnitum, the publisher of Outpost Pro product line, are pleased to announce the latest versions of Outpost 2009 in beta support of Windows 7. In line with the company's history of keeping track with Microsoft's operation systems (including Vista SP2 and Windows Server 2008 SP2 in Outpost 6.5.5), Agnitum has today delivered security solutions for users of Windows 7 RC even before the OS is released to the general public.
The Outpost Pro 2009 product line comprises the all-in-one Outpost Security Suite Pro and standalone Outpost Firewall Pro and Outpost Antivirus Pro 2009. All have been re-engineered to meet the performance and functionality requirements demanded by cutting-edge users.
As Vitaly Yanko, the Director of Marketing and Sales at Agnitum, states: "Outpost 6.7 is our first Windows 7-compatible effort, and we are very happy with the way the products have performed in testing. We will be building on the advances in technical superiority and quality controls in this version to deliver even better solutions in the future."
Among the improvements in Outpost 6.7 are:

support for Windows 7 (release candidate) together with stable operation on latest service packs for Vista and Windows Server 2008 (both 32-bit and 64-bit)
enhanced anti-malware engine and heuristic analyzer for better detection
improved self-protection and Host Protection anti-leak (addition of new filters for driver loads)
advanced content filtering now fully compatible with P2P clients and rich-media websites
dramatic reduction in false positives from Attack Detector while ports scanning
faster performance under Vista SP1/SP2 and 64-bit Windows
more stable network operations for users with Internet Connection Sharing, shared printers and workstations using VMWare
more suitable settings for Auto-Learn and Game modes
Outpost 6.7 also offers improved compatibility with the following third-party applications:
security tools - Windows Firewall, Vista UAC, Kaspersky Antivirus/Internet Security
browsers - revamped Outpost QuickTune plug-in for Internet Explorer 8 on 64-bit Windows
email clients - The BAT!, Incredimail
P2P clients - EMule, mTorrent
translation tools - ABBYY Lingvo X3, TranslateIt!
music and screen reading software - AIMP, Imeem.com, Jaws
all video players and PC games working in full-screen mode
Agnitum is continuing its tradition of updating all personal security solutions every month; the company is committed to the ongoing enhancement of both the security and the usability of its products. Unlike other vendors who have moved to a 15-day time limit on trial versions, Agnitum continues to offer a full 30 days of evaluation time for users to put Outpost products through their paces.
Trial versions of the current Outpost 6.7 products can be downloaded at http://www.agnitum.com/products/
About Agnitum:
Founded in 1999, Agnitum Ltd. (http://www.agnitum.com) is committed to delivering and supporting high-quality, easy to use security software. The company's products are standalone Outpost Firewall Pro and Outpost AntiVirus Pro, securing personal and family desktops; Outpost Network Security, ensuring reliable endpoint protection and performance for small business networks; and Outpost Security Suite - an all-in-one Internet security solution. The company has resellers and partners in 60+ countries and delivers its software in English, French, German, Russian, Spanish as well as other European and Asian languages.
For more information, please contact:
Pavel Goryakin
goryakin (at) agnitum.com
Agnitum Ltd.
###