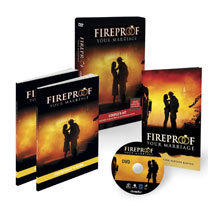 Relationships in the world today are under more cultural and interpersonal pressure and stress than ever before
San Diego, CA (PRWEB) August 12, 2008
Outreach, Inc. and the producers of the new Sherwood Pictures film FIREPROOF have teamed up to offer practical help for marriages and relationships.
"Relationships in the world today are under more cultural and interpersonal pressure and stress than ever before," says Eric Abel, Vice President of Marketing Products with Outreach, Inc. "In the wake of statistics and current events that offer little hope for developing strong marriages, the movie FIREPROOF and these new resources can offer protection from the challenges that put marriages at risk. We know married couples and those considering marriage will benefit from the guidance and encouragement offered by these tools."
The tools available include a couple's study called Fireproof Your Marriage which focuses on relational principles in healthy conflict resolution, trust and investment in one another, communication and listening skills, and daily exercises for practical and immediate application. The Fireproof Your Marriage study is available to ship immediately. The Love Dare, the same book the main character in the movie uses to salvage his deteriorating marriage, dares readers to love their spouse in practical, selfless ways for 40 days. It includes love-dares like "say nothing negative to your spouse" and "do at least one unexpected gesture as an act of kindness". The Love Dare book will be available at the end of August 2008.
More information about these resources is available at FireproofOutreach.com.
Since 1996 Outreach, Inc. has been empowering churches and Christians to share the love of God through training, resources, marketing tools, movies, events and Outreach magazine. FIREPROOF marks the first effort by Outreach, Inc. in the retail marketplace after 12 years of offering an assortment of services directly to churches and parachurch organizations.
FIREPROOF the movie is an action-packed love story about a firefighter, his wife, and a marriage worth rescuing. This powerful film will have audiences on the edge of their seats as the main character explores God's design for relationships and marriage. The movie will be released in theaters on September 26, 2008.
###