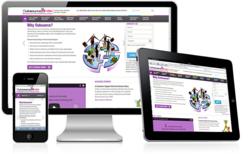 Designers can create normalcy out of chaos; they can clearly communicate ideas by organizing and manipulating words and pictures.- Jeffrey Veen
Bangalore, India (PRWEB) April 18, 2013
Outsource2india is pleased to announce the re-launch of its website that is totally 'responsive'. Empowered with Responsive Web Design it is more user-friendly, has better navigation for touch screen devices, and automatically optimizes depending on the screen size and resolution of the device.
Jacob William, Group CEO of Flatworld Solutions said, "We believe in keeping pace with the latest technology and providing our users with the best browsing experience. Understanding that our mobile user base is fast expanding, and most users prefer accessing the website on their Tablets and Smart Phones along with laptops and PCs, we decided to make our website responsive so that it is 'Platform Independent' and equally appealing on all possible devices and operating systems. This launch takes us way-ahead of our competitors, and gives us an edge when it comes to catering best services to our clients in the most user-friendly manner. Responsive website designing is the latest addition in our outsourcing offerings; and our own website is the proof of how good we are at it. With our site redesign, I promise all our clients an honest, happy, improved and responsive browsing experience."
About Outsource2india
Established in 1999, Outsource2india is a company wholly owned by Flatworld Solutions and started its operations by developing custom software. Later, diversified operations and started offering specialized solutions in Healthcare, Financial Services, Creative Services, Data Entry Services, Engineering Services, Research & Analytics and other B2B Outsourcing Solutions.
Today, Flatworld Solutions and its associate companies have over 5400 customers spread across 46 countries, with over 600 employees working in multiple delivery centers spread across India, South-East Asia and South America. For more information, visit official website at http://www.outsource2india.com/
US OFFICE ADDRESS:
Flatworld Solutions Inc.,
116 Village Blvd, Suite 200,
Princeton, NJ 08540
BANGALORE HQ ADDRESS:
Flatworld Solutions Inc.,
#210, 5 A cross,
3rd Block, HRBR Layout,
Bangalore - 560043