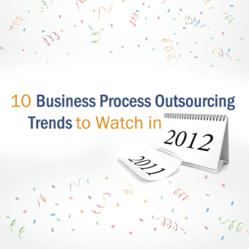 El Paso, Texas (PRWEB) November 30, 2011
DATAMARK Inc., a leading business process outsourcing firm headquartered in El Paso, Texas, is kicking off the launch of its new blog by putting together a list of the hottest 10 BPO trends to watch in 2012.
As expected, emerging technologies continue to change the face of BPO, and the uncertain economy has companies reviewing outsourcing options within the U.S., nearshore in Latin American and farshore in India, the Philippines and China.
Below is a slimmed-down version of DATAMARK's 10 BPO trends, in no particular order.
1. The rise of mobile apps.
Clients will look to BPO providers for mobile apps for monitoring and auditing outsourced processes.
2. The "social" contact center.
Outsourced contact centers will have savvy staff keeping customers happy and engaged through Facebook, Google+, Twitter and other social networks.
3. Gamification will liven up the dull side of BPO.
Business process engineers will apply game theory to more and more business processes as a way of driving innovation into the enterprise.
4. Public-private initiatives worldwide will stimulate BPO growth.
Providers, industry groups and governments at all levels will join forces to develop incentives to attract BPO jobs.
5. The U.S. will take a lesson from international public-private alliances
Astute governments at the state and local levels will take a page from competing countries' playbooks and engage chambers of commerce and BPO providers in strategies to bring jobs home.
6. Technology proving grounds will clear up the clutter
The best BPOs will torture-test in-house and third-party technologies in search of reliable and stable process solutions.
7. Latin America will continue to open eyes as an attractive nearshoring destination.
English-Spanish language skills, a young, highly skilled BPO workforce, cultural similarities and a good time-zone fit—there's a lot to love about Latin America, especially when you factor in labor differentials of 20 to 40 percent.
8. Economic uncertainty will boost outsourcing demand.
A quarter of organizations surveyed by a leading industry analyst say they intend to focus more on outsourcing in the event of another downturn.
9. A shortage of skills at home will drive BPO and ITO.
A shortage of skilled domestic employees is the primary reason jobs are moved overseas, according to a new study on outsourcing.
10. "The Cloud" will continue to be a popular and confusing IT marketing buzzword.
The "cloud" and all the exasperating IT jargon (Caas, PaaS, IaaS, etc.) hovering around its nebulous edges will continue to be heavily hyped across the industry.
For the full article, visit 10 Business Process Outsourcing Trends to Watch in 2012
The Outsourcing Insights blog is designed to be a source of news, issues and trends from the BPO sector and the industries that DATAMARK serves. The blog complements the company's newly redesigned Outsourcing Insights e-newsletter, distributed to subscribers every month.
About DATAMARK
DATAMARK, Inc. is a leading business process outsourcing company specializing in high-volume digital mailrooms, document processing and document management services for large enterprises. Headquartered in El Paso, Texas, DATAMARK employs nearly 2,200 people in its U.S., Mexico and India facilities. For more information, visit DATAMARK, Inc.
###