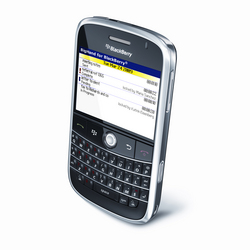 Washington, DC (PRWEB) August 19, 2009
BigHand, the leading voice productivity specialist for the global legal community, will offer ILTA 2009 Annual Conference delegates a preview of a new service designed to help mobile workers stay productive. Offered with Integreon, the leading legal outsourcer, the service makes it easy for BlackBerry® users to dictate into their BlackBerry® Smartphone and quickly receive an accurate transcription.
ILTA attendees can preview how to use the service to improve their mobile professionals' productivity, for example, by writing reports, meeting summaries and responding to e-mail messages.
Using BigHand for BlackBerry® in conjunction with the Integreon outsourcing service lets mobile professionals complete a greater volume of work on-the-go. BigHand's mobile app instantly sends the dictation to Integreon's Fargo delivery center for transcription. Users can prioritize and track jobs, receiving completed tasks back by email.
Steve Butterworth, President & CEO at BigHand Inc commented:
"BigHand is a voice technology that helps busy business people control their workload, expedite and track important items and access outsourced services - all on a flexible basis while they are on the move. The annual ILTA event is a fantastic conference and there is a business real value in law firms sending attendees but in the current economic climate the business case to attend such events comes under even greater scrutiny. Managing the impact on your inbox is exactly the sort of 'peak' in workload that BigHand is designed to confront. Adding Integreon's transcription service, provides professionals with a great way to stay on top of their work while away from the office. Bringing a productivity application and business service together like this really embodies the software-as-a-service ethos, a big topic at the conference this year."
Chris Bull, COO Europe and the Americas, Integreon, commented:
"Lawyers and law firm managers on-the-go increasingly rely on their BlackBerry® Smartphones. Until now, even great 'thumb typists' face limits in writing long text. The combination of BigHand voice capture and workflow technology on the front end with Integreon's transcription service on the back-end overcomes this limitation. Our joint offering helps mobile professionals keep up with their work. With it, we expect to continue to see attorneys embrace voice software as a way of generating content and as a medium for getting work completed more quickly."
Anyone interested in the preview can stop by the BigHand booth (#334). Also, BigHand and Integreon are making a limited free 14-day trial available for delegates during the conference; to learn more email inquiry (at) bighand.com quoting "ILTA09".
Contact:
Dan Speed, VP Marketing, BigHand Inc.
Ron Friedmann, SVP Marketing, Integreon
About BigHand
BigHand is based out of Chicago, London, Sydney and Toronto. BigHand is the leading digital dictation vendor in the global professional services sector. BigHand3 was awarded 'Best of Breed System of the Year' at the Legal Technology Awards for 2008, and BigHand Mobile (BlackBerry Edition) was voted 'Mobile Product of the Year' at the CNET Business Technology Awards 2008. BigHand has also been nominated in the Sixth Annual Law Technology News (LTN) Awards for 2009 as 'Dictation System of the Year' and 'Mobile Tool of the Year'. Further information is available at http://www.bighand.com
About Integreon
Integreon provides a range of outsourced knowledge services to professionals using Document KPO, Research KPO, Legal KPO and Business Services to transform its customers' Middle Office, allowing professionals to focus their time and energy on their 'highest and best use.' Its customers include many AmLaw 100 and UK top 50 law firms, almost all of the global investment banks, several top-tier private equity firms and hedge funds, as well as many Fortune 100 and FTSE 100 corporations. For more information about Integreon, please visit http://www.integreon.com
###