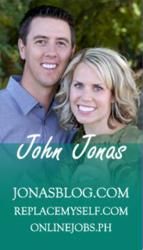 "Implementation is everything. If you're not implementing what you know, it's really hard to succeed," Jonas explains.
Salt Lake City, UT (PRWEB) November 13, 2012
When John Dumas created renowned podcast "Entrepreneur on Fire," his goal was to syndicate quality content from some of the most influential entrepreneurs in the nation. He's gone beyond: 'Entrepreneur on Fire' has been ranked as the #1 business podcast on 'iTunes New' and 'Noteworthy.'
Following the trend of interviews with entrepreneurial gurus like Suze Orman, Michael Hyatt and Mari Smith, Dumas recently interviewed John Jonas of ReplaceMyself.com. Jonas, a young serial entrepreneur, struck gold in the Philippines by outsourcing. John Jonas now focuses his efforts on teaching small business owners how to cut costs and increase efficiency by outsourcing to the Philippines with ReplaceMyself.com.
"Implementation is everything. If you're not implementing what you know, it's really hard to succeed," Jonas explains.
When Jonas started his first business, he was swamped with daily, mundane tasks like dealing with customer service, cleaning out his inbox, designing his websites etc... Consequently, he neglected to expand his business and implement his new ideas.
He explains that the bane of every small business owner is the tedious daily tasks. They keep the business running, but they also limit the CEO if he/she can't afford to hire an assistant. Most small business owners get stuck answering emails and dealing with customer service instead of networking and growing their business.
Jonas' 'AHA' moment occurred when he realized, "I can afford to get someone else to do this for me." He learned from a friend that outsourcing to the Philippines made hiring an assistant affordable. When he delegated the daily tedium to his Filipino VA, Jonas was free to spend his time expanding the foundation of his business and implementing new ideas. Now he manages 13 full-time VAs, and business is thriving.
His newly found free time also spilled over into his personal life, with more time to spend with his kids, his wife and golfing.
Host John Dumas adds his insight on outsourcing to the Philippines:
"Currently, 'Entrepreneur on Fire' has 3 full-time virtual assistants, all based out of the Philippines. I could not be more impressed with the ingenuity, the hard work, the loyalty of my virtual assistants. I've just been really pleased with that."
In the closing remarks of the interview, Jonas challenges, "Get someone else to do your work for you. Find someone to do the work that you are currently doing and free up some of your time. Focus on improving parts of your business because you have time!"
For John Dumas' full interview with John Jonas, including some of Jonas' failures, favorite business books, the best business advice he's received, and his favorite internet resource, listen at EntrepreneurOnFire.com.
Since 2007, John Jonas has employed innovative methods teaching business owners how to increase efficiency and decrease cost by delegating labor to the Philippines. Jonas offers customized tools to hire, train, manage and pay Filipino employees through ReplaceMyself.com, OnlineJobs.ph and Payments.ph. ###