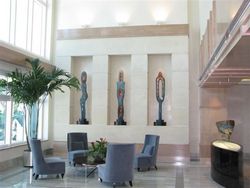 We're very excited to unveil these new art pieces, specially commissioned by Florida artists as part of the vision of this magnificent new building
St. Petersburg, Fla. (Vocus) September 23, 2009
Two new pieces of artwork commissioned for Ovation, downtown St. Petersburg's newest luxury waterfront community, have been installed in the building's main lobby.
"The Family" by Tampa-based glass sculptor Susan Gott and "Boats" by multimedia artist Barbara Sorenson, who lives part-time in Winter Park, Fla., are now on display for building residents and visitors.
"We're very excited to unveil these new art pieces, specially commissioned by Florida artists as part of the vision of this magnificent new building," said Michael Cheezem, CEO of JMC Communities, developers of Ovation.
Gott's "The Family" is a grouping of six life-size abstract figures made of textured glass casting, layered with color, carvings, lines and symbols, incorporating the forms and colors used throughout the building. More abstract than some of her other work, Gott describes the pieces, installed within raised niches on facing walls, as "totemic." "The Family" includes spirals and circular and oval motifs frequently seen in Gott's work. "While some viewers will see these simply as decorative elements that catch light and bounce it around in different ways," she says, "to me they are important parts of the piece, symbolizing chakras or healing centers."
Sorensen's "Boats" are two matching 18-inch-tall sculptures, crafted in textured clay and gray-blue glaze, rubbed with oxides and finished with silver leaf - echoing accents of the colors in the lobby's marble floors. "Taking into account the waterfront location, the marina across the street and other interior elements, boats just seemed perfect for this space. It's a theme I've been working on for some time," Sorensen said from her Colorado home.
"Boats" are suspended above two elliptical chests lighted from beneath, creating the appearance of moonlight glancing off water, according to the artist. Boats, she added, "Are about the journey - about traveling and a sense of adventure. Perhaps on the high seas, perhaps across 'oceans of experience' or on personal journeys within. I think of boats as vessels - containers of people, of the soul. The outsides reflect the landscape of our skin and bodies, while the insides reflect what's going on on the outside. Lots of great secrets, and marvelous and precious things we don't always see or allow others to see."
Anyone interested in seeing these two pieces, or the other artworks on display at Ovation, should contact the sales center at (727) 898-1180.
Also today JMC unveiled a new public art piece, "O Wave" in front of the building.
About Susan Gott
Gott has worked in glass for more than 25 years, has a Master of Fine Arts degree in glass from Kent State University, and has studied at Pilchuck, Haystack, Arrowmont, Penland Schools and Radford University. She has been honored with numerous grants and awards, including an Individual Artist Fellowship from the State of Florida. Her work can be found in numerous public, private, and corporate collections and has been published in New Glass Review, Glass Art 2000, Glass Art Magazine, and American Craft. She has completed several large-scale public art commissions, including ones for the University of Central Florida, Hillsborough County, City of St. Petersburg, and HARTlines' University Area Transit Center. Gott operates her own hot glass shop, Phoenix Glass Studio, in Tampa.
Gott's sculptural glass reflects her interest in mythological imagery, symbolism, and traditions from historic and ancient cultures. The resulting artworks, with primitive qualities and metaphors, are a visual representation of the cycles of life and connection to the spiritual realm.
About Barbara Sorensen
Sorensen is nationally recognized for her sculptures, print works and exhibits in galleries across the country. Educated at the University of Wisconsin, she has studied around the world with leading ceramic artists including mentors Peter Voulkos, Paul Soldner and Rudy Auti.
About JMC
Founded by J. Michael Cheezem in 1978, St. Petersburg-based JMC Communities is recognized as one of the top multi-family community developers in Florida. With a strong reputation for innovation, integrity and quality, JMC is committed to enriching the lives of its residents through exceptional living environments by developing communities that provide peace of mind, comfort and enduring pride of ownership. JMC is committed to providing unsurpassed value at a high level of quality from site acquisition to property management.
JMC has built more than 4,000 quality condominium homes. Projects include Minorca and Seacrest in New Smyrna Beach, Mandalay Beach Club, Belle Harbor and Sandpearl Resort & Residences on Clearwater Beach, The Bellamy on Bayshore in Tampa, Florencia in St. Petersburg, and The Grande and Meridian on Sand Key. For more information please visit http://www.jmccommunities.com or call 727-823-0022.
Media Contact:
Steve McAuliffe
(727) 823-0022
###