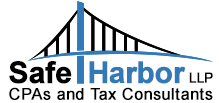 We have many inquiries from San Francisco residents about the OVDP.
San Francisco, CA (PRWEB) April 30, 2013
San Francisco, CA. Safe Harbor LLP, a top San Francisco CPA Firm, is proud to announce their latest informative FAQ (Frequently Asked Questions with Answers) on the OVDP (Offshore Voluntary Disclosure Program). With recent moves by the IRS to increase tax enforcement, the OVDP is becoming an important tactic among US citizens and residents to stay in compliance with US laws.
"We have many inquiries from San Francisco residents about the OVDP," explained Chun Wong, Managing Partner at Safe Harbor LLP. "But the OVDP is anything but simple, and so we wanted to post at least a short, informative FAQ-type blog post that would answer many initial questions about the Offshore Voluntary Disclosure Program, or OVDP."
For more information, go to:

OVDP Program: What the Law Requires
As a general rule, U.S. citizens and residents (including of course residents of San Francisco and other cities in California) are subject to federal tax on all of their income, regardless of the source. This includes foreign income, subject to certain exemptions and exclusions.
Whether foreign income is taxable or not, you're required to file annual information returns reporting the existence of foreign bank and investment accounts if their aggregate value exceeds $10,000, as well as the existence of certain interests in and transactions with foreign trusts, corporations and partnerships.
Failure to comply with these requirements can result in substantial civil penalties and even criminal charges.
IRS Circular 230 Notice
The Internal Revenue Service requires Safe Harbor LLP to inform the reader that any tax advice contained in this correspondence cannot be used for the purpose of avoiding penalties under the Internal Revenue Code or for promoting, marketing or recommending to another party any transaction or matter addressed.
About Safe Harbor LLP – a Professional CPA Firm in San Francisco
Safe Harbor LLP is a CPA firm that specializes in accounting and tax services for individuals and businesses throughout the San Francisco Bay Area and greater California. Safe Harbor CPAs helps both individuals and businesses with tax preparation, IRS audit defense, and audited financial statements. The firm prides itself on friendly yet professional service and utilizes state-of-the-art Internet technology to provide quality customer service.
Safe Harbor CPA
Tel. 415.742.4249