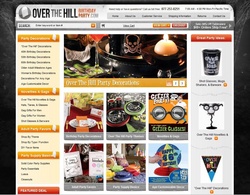 We have had so much fun designing this website
Enumclaw, WA (Vocus) October 15, 2010
PartyPail, Inc., today announced the launch of a unique new E-Commerce website designed to provide best in class product offerings to people seeking to plan and host birthday parties for adults. With a focus on Over The Hill Birthday Party supplies, the website has organized thousands of mature age oriented party supplies into an innovative shopping experience. Operated by experienced Party Supply on-line retailer PartyPail, this newest website property puts a fun twist on the planning birthdays from ages 40 to 100+.
"We have had so much fun designing this website" shares CEO Edward Hechter. "These adult milestone parties can be a blast to attend, and we're hoping to bring that same fun and enjoyment to the party planning and shopping experience."
The company scoured the marketplace to piece together an extensive product line of party supplies, decorations, gag gifts, novelties, and party favors. Leveraging its existing industry relationships in combination with adding new innovative products from new suppliers into the mix, the company has been able to launch this new retail website with over 1,600 products, and plans to have more than 2,000 products live by the end of Q4.
"Selecting products for this product launch has been a total blast" said General Manager Traver West. "Helping customers with these mature age related celebratory events means we have to have products that range from classy to crass, from funny to downright embarrassing for the guest of honor. Our team has laughed every single day since we started our product development efforts, and that's what we love about this new initiative – the fun!"
The "Over The Hill" theme inspired both the site's product selection, and its aesthetic design. By placing a focus on the core age related milestones, the website makes it easy for someone planning a major celebration by simplifying the process of purchasing 40th birthday decorations and related novelties. Consumers visiting the site will find logical age related categories, each with its own selection of party themes and party supply categories.
A major goal for the site was making sure that customers could easily see all the available party design ensembles for a specific age category, and then see all the related novelty, gag gift, and decorative accessories. By optimizing the way the category pages present theme categories, and enabling single click add-to-cart functionality, the time spent interacting with the shopping cart has been minimized, and the ease of site navigation has been dramatically improved.
"Having served over 100,000 customers in the past 3 years, we've learned a lot from our other party supply oriented websites" continues CEO Hechter. "With every new website we launch, we try to improve the consumer experience, not just in terms of look and feel, but also in terms of easy of shopping."
Another objective for the website was to make it easier for the hosts of the parties to find not just younger age appropriate themes for the under 50 crowd, but also address the needs of those planning celebrations that would require 60th birthday party decorations or supplies for even older milestone events. The company's research suggests that the "baby boomer" generation sees themselves not as old, or at least not ready to act old. Having fun with these older milestone events is a core objective for the site.
About OverTheHillBirthdayParty.com:
OverTheHillBirthdayParty.com is operated by PartyPail, Inc. from its corporate offices and distribution center in Enumclaw, Washington. The company currently operates six e-commerce retail party decoration websites with a focus on adult milestone celebrations such as weddings, baby showers, baptisms, bridal showers, mature adult milestone birthdays, and 1st birthday parties. Having served over 100,000 customers, the company is committed to operating as a family friendly organization to both customers and staff alike.
All trademarks used are properties of their respective owners.
###