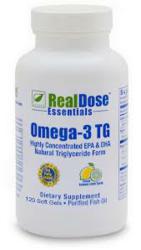 RealDose Omega-3TG Fish Oil versus competing brands is like the Major Leagues versus Little League.
(PRWEB) June 19, 2013
What is so great about Omega-3, and why might RealDose Omega-3 TG have the best calibration?
According to Joseph Maroon, M.D., Vice Chairman of Neurosurgery at the University of Pittsburgh School of Medicine, human clinical studies have proven that both the EPA and DHA omega-3 fatty acids found in fish oil can help the consumer experience:

Reduced Inflammation
Better Brain Health
Enhanced Heart Health
Natural Weight Management
Improved Mood
The problem is, not all Omega-3 supplements are created equally.
In fact, most Omega-3 supplements lack in the areas of absorbability, stability, and freshness, and must be taken along with a fatty meal. Not so with RealDose Omega-3 TG.
RealDose Nutrition is known for providing the "right ingredients at the real dose" (vis-à-vis RealDose Weight Loss Formula No. 1), promising the same value with its Omega-3 TG product.
Click Here for the Omega-3 TG Website or here for the product review by OverallHealth.org
OverallHealth.org is a free-spirited site where author and chief editor Henry Rearden enjoys profiling and reviewing fresh – sometimes trendy - new products to hit the health market. Anything in the periphery of health and well-being is fair game for Henry to pull off the shelf for a look-see.