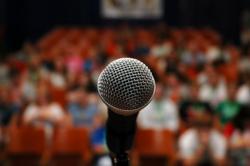 Regardless of one's occupation, success often depends on the ability to communicate effectively.
(PRWEB) February 29, 2012
Confident public speaking is a critical communication skill in business and in life. It is important not only for formal presentations, but also for smaller meetings with as few as 2-4 people and personal one-on-one interviews. With majority of adults having the fear of public speaking that ranks above the fear of death, the impact of that fear on success can be disastrous. It can lead to low self esteem, missed promotions, and loss of job or business.
John Childers is a speaking coach who have been a sought-after public speaker for over 30 years and who has trained thousands of successful speakers. In a recent interview, he said, "While fear of public speaking is cited in many studies and sources, the actual number one fear is speaking in public. Those two fears are very different. While public speaking means giving an actual speech in front of a group of people, speaking in public refers to voicing your ideas and opinions in any conversation, even one on one."
This fear can be appropriately called as fear of conversation and it can strike in many different types of situations such as a sales pitch, a job interview, a networking event, a business phone call or interaction with authority figures.
While most people will never have to worry about giving formal presentations, overcoming the fear of speaking in public is a skill that would be a tremendous asset to anyone. Regardless of one's occupation, success often depends on the ability to communicate effectively.
There are many strategies that can be used effectively to help people be not only more confident speakers but also communicators. These strategies are easy to learn and apply in public speeches and everyday life.
John Childers offers free resources to help people overcome the fear of public speaking. He feels that it is critical to offer his help to promote better communication skills.
For more information and to access those resources, go to OvercomingFearOfPublicSpeaking.net
###