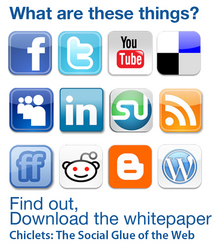 "We developed this paper because chiclets are truly the most powerful and most underutilized nuggets of free social media technology out there…they are literally marketing miracles."
Boston, MA (PRWEB) March 4, 2010
Overdrive Interactive, an award-winning digital agency who specializes in search and social media marketing, has released a new whitepaper "Chiclets: The Social Glue of the Web." The white paper is available for free at http://www.ovrdrv.com/chiclets or by contacting the agency directly.
The social media whitepaper was developed as part of Overdrive Interactive's commitment to educate all marketers on the power and measurability of social media and how to best apply it to their marketing objectives. Harry J. Gold, the agency's CEO, said about the white paper, "We developed this paper because chiclets are truly the most powerful and most underutilized nuggets of free social media technology out there…they are literally marketing miracles." He added, "Marketers need to be aware of the content distribution power of these colorful little icons and have a chiclet strategy for all their online marketing activities."
The whitepaper covers chiclet strategy and tactics by answering a series of questions ranging from what a chiclet is to how they can enhance websites, banners and any online campaign with instant one click viral distribution. Readers will see real examples of exactly how chiclets actually work to easily get content posted in consumer's Facebook profiles, blogs and Twitter micro-blogs.
Ty Velde, Overdrive Interactive's EVP and Director of Client Services said, "We help companies add social octane to their websites, landing pages, emails, banners, basically everything they do online, with well thought out, measurable social media marketing and chiclet programs." He went on to say, "Chiclets can turn just a few clicks into thousands of impressions that create lasting links and content placements all over the social web. The results are more traffic, more actions, more leads or revenue and more success for your online marketing programs."
"Chiclets: The Social Glue of The Web," is just another example of how Overdrive Interactive is demystifying social media and bringing effective, measurable and easy to understand social media marketing strategies and tactics to the marketplace.
###
ABOUT OVERDRIVE INTERACTIVE
Overdrive Interactive is a full-service online marketing agency based in Boston that helps clients grow their business with engaging and measurable social media marketing and search engine marketing campaigns and services. The agency specializes in creating genuine consumer connections that help companies build their brands, generate leads and drive revenue. Overdrive Interactive serves organizations that are seeking a high level of accountability from their agencies with proprietary social media tracking and dashboard technologies that allow companies to track actual leads, revenue and ROI from their social programs. For more information, please visit http://www.OverdriveInteractive.com.