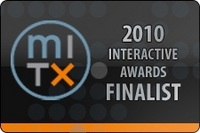 "We are delighted to be nominated for this prestigious award. To be recognized by a jury of your peers is validating and an acknowledgment of the great work that Overdrive Interactive is doing on behalf of our clients." Harry Gold, Overdrive Interactive
Boston, MA (PRWEB) November 12, 2010
Overdrive Interactive announced today that the agency has been nominated for the MITX Interactive Agency of the Year Award. Overdrive has been nominated because MITX feels that Overdrive represents the best of interactive marketing through creativity, innovation and proven success in the field for our clients.
Vote for Overdrive Interactive for Agency of the Year: http://bit.ly/b6Zw7D
The MITX Interactive Awards celebrates the best creative and technological accomplishments in New England. This year, MITX is partnering with Boston.com on a People's Choice Award for the Interactive Agency of the Year, for the agency who represents the ideal of interactive marketing through creativity, innovation, and proven success in the field. This year's People Choice nominees represent a broad array of marketing services and were selected because they received the most finalist nominations in the 25 categories in the competition.
"We are delighted to be nominated for this prestigious award. To be recognized by a jury of your peers is definitely validating and an acknowledgment of the great work that Overdrive Interactive is doing on behalf of our clients." commented Harry Gold, CEO and Managing Partner at Overdrive.
"The MITX Awards encompass all things creative and innovative in interactive marketing and technology, and this year saw an increasingly impressive group of forward-thinkers" said MITX president Kiki Mills. "We are proud to be the voice for the region's digital community and we are thrilled to recognize some of the world's most inspiring marketing and creative experts through the Awards."
About Overdrive Interactive:
Overdrive Interactive is a full service agency focused on interactive and online marketing in Boston that specializes in branding and lead generation services using search engine optimization, paid search management, online media planning and buying, social media marketing, email marketing, and web and application development. The agency serves a wide range of consumer and B2B Fortune 500 companies.
About MITX
The Massachusetts Innovation & Technology Exchange (MITX) is the region's premier professional organization for the Internet business and marketing industry. Reaching more than 7,500 professionals in New England, MITX is the community for thought leadership, building business relationships and professional training and development. Members of the MITX community take advantage of events, sponsorships, speaking opportunities and networking to make business connections and exchange ideas. With more than 60 events annually, MITX provides its members with the opportunity to promote their companies to targeted audiences and provides a valuable forum for networking with other likeminded peers to source potential business leads, partnerships, ideas, and funding. MITX is headquartered in Cambridge, MA. Visit us at http://www.mitx.org.
# # # #