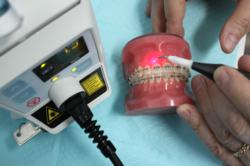 Medical science has proven time and again that when the resources are provided, great progress in the treatment, cure and prevention of disease can occur. — Michael J. Fox
Brooklyn, NY (PRWEB) October 04, 2011
Dr. Ted Rothstein is pleased to announce that he is now using the "Sapphire Diode Soft-tissue laser." This laser instrument will permit his office to offer an array of services to treat conditions that commonly arise at the start of orthodontic treatment or occur during and at the end of orthodontic treatment.
Formerly, Dr. Rothstein would need to refer these patients to specialists like oral surgeons and/or periodontists who typically charge high fees to remove/reshape these overgrown soft-tissue problems using the standard methods of care: viz. the scalpel which requires anesthetic injections to control pain and results in bleeding that may sometimes require stitches to control with prolonged healing time and post-operative infection. Patient's apprehension and ability to get these problems taken care of timely would often lead to prolonged delays in the completion of the orthodontic treatment.
Enter the laser soft tissue non-surgical approach: (no scalpel, no bleeding, rare need for injection pain control, no stitches, minimal post-op pain, rapid healing and post-op infection occurrence). These are the benefits of laser light removal of soft tissue. These benefits translate to higher rate of patient acceptance (less fear of the proposed need for treatment), less time lost time in getting the orthodontic treatment finished.
Ask Dr. Rothstein what are some of the most vexing problems he encounters in providing orthodontic treatment and he will tell you without a moment's hesitation:
1. Teeth that are impossible to put braces on because they are covered by gums;
2. That are prevented from erupting because they are covered by very thick gum tissue;
3. Gums that become overgrown during the course of orthodontic treatment.
4. Gums that are gross/misshapen at the end of orthodontic treatment and remain so after the braces are removed. Dr. Rothstein has posted images that permit you to compare overgrown to normal gums.
The soft-tissue laser is very versatile instrument indeed. Dr. Rothstein has gathered together dozens of short videos that demonstrate the wide array of commonly seen problems in an orthodontic office including the use of the laser to make gums pink when they are deeply pigmented.
Think of the laser as a beam of light the thickness of the period at the end of this sentence. The light is so intense (focused) that it remains the same size no matter how far away the object it shines on. The light energy can be converted to thermal energy quite efficient in vaporizing overgrown tissue.
Your body is 60% water; likewise for the composition of your gums. When the light from the laser beam lightly contacts the gum tissue it rapidly vaporizes the gum tissue, most often with little or no discomfort. Simultaneously, the light energy seals the ends of the nerves (cauterizes) and coagulates any blood that oozes from the small blood vessels it passes through and sterilizes bacteria likely to cause infection. Consequently, pain/discomfort and bleeding are minimal.
Oral surgeons, periodontists and pedontists (who treat young children) use laser instruments that provide even greater power which permits them to reshape bone and remove small-moderate sized cavities. Lasers are no longer looming on the dental horizon. They are the present, and an ever-increasing number of dentists and specialists are implementing them in their offices.
###