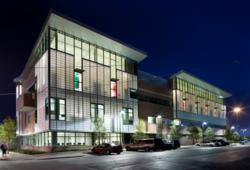 Our finalists undeniably changed, and continue to change, the way their communities think and operate.
Cambridge, MA (Vocus/PRWEB) February 11, 2011
The 2011 Rudy Bruner Award for Urban Excellence (RBA) committee has selected five finalists from architecture, landscape, urban design and other projects across the United States that are both excellently designed and have transformative impacts on their urban environments. The selected projects are: The Bridge Homeless Assistance Center in Dallas; Brooklyn Bridge Park in Brooklyn; Phoenix's Civic Space Park; the Gary Comer Youth Center in Chicago; and Santa Fe's Railyard Redevelopment.
Finalist projects, which are selected biennially, receive a minimum $10,000 Silver Medal Award, with one project elevated to a $50,000 Gold Medal Award.
"Our finalists undeniably changed, and continue to change, the way their communities think and operate," said RBA director Brandy H. M. Brooks. "From engaging homeless residents as valued and respected citizens to supporting community-driven redevelopment of a major public parcel, these projects are not only shaping their physical environments, but also building and cementing new partnerships among individuals and institutions."
In the coming months, each finalist project will be visited by a study team that will interview project stakeholders, including designers, developers and public officials, as well as members of the surrounding community. Based on reports from the site visit teams, the RBA Selection Committee will determine the Gold Medalist at their second meeting this May.
The 2011 RBA Selection Committee members are Mayor Lisa Wong of Fitchburg, MA; Randy Gragg, editor-in-chief of Portland Monthly in Portland, OR; Dan Pitera, executive director of the Detroit Collaborative Design Center in Detroit; Renata Simril, managing director at Jones Lang LaSalle in Los Angeles; Edward Uhlir, executive director of Chicago's Millennium Park; and Jess Zimbabwe, executive director of the Urban Land Institute's Daniel Rose Center for Public Leadership in Land Use in Washington, DC.
The five finalists represent a broad range of project types and community goals:

The Bridge Homeless Assistance Center demonstrates that cities can restore dignity and power to their least privileged residents through beautiful architecture and new community relationships. (Designed by San Antonio-based Overland Partners and Dallas-based Camargo Copeland.)
Civic Space Park illustrates the power of university-community partnerships in creating a revitalized downtown for the city of Phoenix. (Designed by AECOM, landscape architecture.)
The Gary Comer Youth Center provides a safe haven and educational opportunities for at-risk youth with a landmark community facility in one of Chicago's poorest neighborhoods. (Designed by Chicago-based John Ronan Architects.)
The Santa Fe Railyard Redevelopment combines new commercial, residential and open space development with improved transportation links to bring life to an underutilized area of Santa Fe. (Landscape architecture by New York-based Ken Smith Landscape Architect; New York-based Frederick Schwartz Architects, architecture; Masterplan by Surroundings Studio LLC of Santa Fe; and public art designed by Mary Miss of New York.)
Brooklyn Bridge Park uses exceptional landscape design to reconnect a community to its waterfront, enabling both social gatherings and environmental education. (Designed by Brooklyn-based Michael Van Valkenburgh Associates, landscape architecture.)
"This diverse collection of projects clearly affirms the RBA's philosophy: that urban excellence comes from the interplay of process, place and values, and that it can take many different forms. We ask our applicants to make the case for their definition of excellence, and in doing so, we often learn something that challenges our own preconceived ideas," added Brooks.
About the RBA:
The Rudy Bruner Award for Urban Excellence (RBA) seeks to discover exceptional projects and places that transform urban problems into creative solutions. A program of the Bruner Foundation in Cambridge, Mass., the RBA recognizes one Gold Medal Winner and four Silver Medal winners in each biennial cycle. The Gold Medal Winner is awarded $50,000, and each Silver Medalist $10,000. The RBA is distinguished from other award programs by its broad eligibility criteria, the multi-disciplinary Selection Committee, and the detailed on-site evaluation of each finalist. Since 1987, the RBA has recognized more than 60 projects that demonstrate urban excellence - the interplay of process, place and values in creating a rich and diverse urban experience. The Award highlights the complex process of urban place-making; each Award cycle is documented in a book that includes in-depth case studies of the winners and a distillation of the Selection Committee discussion. The publications are available online or in hard copy from the Bruner Foundation at http://www.brunerfoundation.org/rba. For more information, please call (617) 492-8404 or e-mail rba2011(at)brunerfoundation(dot)org.
About the Bruner Foundation:
The Bruner Foundation was established in New York in 1963 by Rudy Bruner. In its early years, the Foundation strategy was to support innovative programs that challenged existing social patterns and introduced new models of practice. More recently, the Foundation has developed and continues to direct innovative programs of its own that have established new standards of practice in their respective fields. The Rudy Bruner Award for Urban Excellence, a national award for urban places, was founded in 1987 by architect Simeon Bruner. The Bruner Loeb Forum, a collaboration between the Rudy Bruner Award and the Loeb Fellowship at Harvard's Graduate School of Design, seeks to advance thinking on a variety of topics relating to the urban built environment. Similarly, the recently completed Rochester Effectiveness Partnership and its successor, the EthOS Project, have created new methods for improving the effectiveness of non-profit service delivery. Building collaborative partnerships, leveraging resources and tackling complex societal issues are the common threads of the Foundation's 40-year history.
Images of The Bridge can be downloaded at:
http://www.flickr.com/photos/40948653@N07/sets/72157624807333876/
###