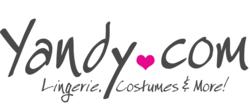 PHOENIX, Ariz. (PRWEB) October 24, 2012
Halloween season has arrived and with the busy Halloween party weekend quickly approaching, online Halloween costume retailer, Yandy.com, is offering last minute shoppers $14.95 overnight shipping with guaranteed delivery by Friday, October 26.
While Yandy has been busy all Halloween long, they have seen a push this last week, before Halloween parties begin, of last minute shoppers scrambling to get their costumes. To make it a little bit easier and more affordable for those shoppers, Yandy is offering $14.95 overnight shipping on all orders placed before 4:30 p.m. PST on Thursday, October 25. This rate is a flat rate and is available for any destination within the continental United States.
With overnight shipping normally starting at $19.95 and running up to as much as $20 to $30 more than that depending on location, this discounted rate is a benefit to shoppers already spending, on average, $65 for a Halloween costume.
Not only is Yandy offering this discounted overnight rate for shoppers, but the site also boasts more than 3,000 standard and plus size costumes to choose from and a free panty with every order.
About Yandy.com
E-commerce is on the rise and Yandy.com is one of the largest online retailers of lingerie, sexy Halloween costumes, swimwear and clothing on the web. Founded in 2003, Yandy boasts more than 6,500 products always in stock at easily affordable prices. Yandy ensures that every customer will receive a safe, secure and private online shopping experience and is backed by COMODO online security and Google Checkout. Yandy is dedicated to customer service and only sells what is in stock which allows for quick, same day shipping. Offering the highest quality products at the most affordable prices in the market, Yandy has become a leader in e-commerce. Yandy works closely with all of the manufacturers they distribute for and hand select all of the items on the Web site to ensure customers have the largest and most diverse collection to choose from. In addition, the customer service team at Yandy is unrivaled. With attentive and helpful operators, should a question or problem arise, the customer service team at Yandy is always willing and able to assist. At Yandy, every customer can Be Sexy.
###