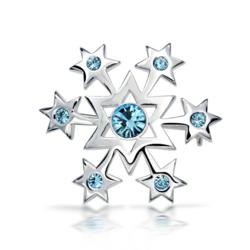 With the Christmas season in full swing, we're confident that our holiday jewelry will be a big seller this year!
New York, NY (PRWEB) December 06, 2011
Specializing in designer inspired jewelry, Overstock Jeweler has decided to kick off the holiday season by launching their xmas jewelry collection. Featuring new snowflake jewelry pieces that appeal to the festive fashionista, the jewelry website hopes to present itself as the top source for Christmas jewelry gifts. As a result of preliminary social media buzz, it is trending as a popular shopping destination for the holiday season.
Though other online jewelry retailers are promoting their merchandise this season, Overstock Jeweler has decided to spotlight the fashionable facets of their Christmas jewelry. "While other holiday jewelry was designed to look quirky, our objective is to showcase our pieces as must-have luxury jewels," mentions Overstock Jeweler CEO, Elena Castaneda. In introducing sterling silver Christmas bracelets and cubic zirconia snowflake earrings, the designer inspired jewelry store intends to provide chic holiday
jewelry to its customers at affordable prices.
In addition, the stylish snowflake pendants and chic Christmas beads in Overstock Jeweler's Christmas jewelry selection will also be spotlighted as must-have fashion selections. "We've always prided ourselves in offering our customers high-quality costume jewelry, which is a main reason why many of them consider our site as a one-stop shop for glamor," boasts Castaneda. "With the Christmas season in full swing, we're confident that our holiday jewelry will be a big seller this year!"
With a full spectrum of Christmas jewelry in stock, the online jewelry retailer is confident that its clientele will embrace every fashionable piece in the collection this holiday season. In offering snowflake jewelry as an option for evening wear fashion, it is expected to be one of the biggest trends at holiday parties this year. Casual winter style will also get a glamorous boost as Overstock Jeweler's xmas jewelry will be popular amongst their fashion-forward clientele.
Offering the widest selection of designer inspired jewelry and accessories, Overstock Jeweler prides itself in catering to budget-conscious fashionistas. With high-quality pieces and top-notch customer service, they have maintained their sterling reputation as the trustworthy source for Christmas gifts during the holiday season for years.
###