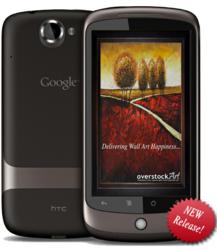 We are excited to introduce our innovative mobile application to the largest growing market of smartphone users...
Wichita, Kan. (PRWEB) November 23, 2011
overstockArt.com announced today that the overstockArt.com Oil Paintings mobile application has launched for use on Android operating systems. The application, first released on iPhone in June, provides its users the unique opportunity to browse, decorate, buy and share artwork from the palm of their hands.
The free application is an extension of the popular online art gallery and an adaptation of the retailer's web application, "View in a Room." It uses augmented reality technology to enable users to take a picture of a wall and then select a piece of art from the company's inventory to position on the image, letting a consumer see how the art would look on his own wall. Other features of the application include:

Create a personal gallery with the new "My Gallery" feature. Select fine art from overstockArt.com's collection or import images to create a personal gallery.
Browse overstockArt.com's robust collection of art and search by artist, subject, style or size.
Share images and personal galleries via e-mail and Facebook.
"We are excited to introduce our innovative mobile application to the largest growing market of smartphone users," said David Sasson, CEO of overstockArt.com. "Between this new application and our recently released mobile website, customers can now shop with us when and where they want. It's shopping for fine art on demand - just in time for the holidays!"
overstockArt.com Oil Paintings is a free Android application, it is available now for download at the Android Market. To learn more about the Android and iPhone applications, please visit http://www.overstockArt.com/iphoneapp.html.
About overstockArt.com:
Founded in 2002, overstockArt.com is one the web's most successful distributors of wall décor items with more than 20,000 daily visitors and 120,000 loyal customers. With more than 60,000 oil paintings and decorative ceramic tiles and more than 100,000 wall décor combinations to choose from in stock at all times, overstockArt.com has become a premier shopping destination for fine art reproductions online. The Wichita, Kan. based online art gallery was named to Inc. Magazine's 2010 and 2011 Inc. 5000 lists, Internet Retailer magazine's inaugural Second 500 Guide and was recognized with the STELLAService Seal for excellent customer service. For more information, visit http://www.overstockArt.com.
###