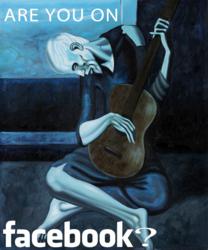 By monitoring artists on Facebook we are provided a great indicator to what is hip and most desirable art on the market.
Wichita, Kansas (Vocus/PRWEB) February 03, 2011
According to research issued today by the popular online art gallery, overstockArt.com, Pablo Picasso is the most "liked" artist on Facebook. overstockArt.com created tribute pages for the 50 most popular artists in history. After an entire year of posts and moderation overstockArt.com identified the top 10 most popular classic artist on facebook according to the number of fans they had on the social media giant.
The top 10 artist fan pages on Facebook are:
1. Pablo Picasso – 5,357 fans
2. Vincent Van Gogh – 1,770 fans
3. Salvador Dali – 1,130 fans
4. Claude Monet – 1,035 fans
5. Pierre-Auguste Renoir – 903 fans
6. Amedeo Modigliani – 786 fans
7. Edgar Degas – 752 fans
8. Paul Cezanne – 693 fans
9. Frida Kahlo – 688 fans
10. Wassily Kandinsky – 651 fans
"Facebook is a wonderful tool to use to engage with consumers, and is also an effective tool for keeping an eye on consumer trends and practices," said David Sasson, founder and CEO of overstockArt.com. "By monitoring artist fan pages on Facebook and determining which ones are most popular we are provided a great indicator to what is hip and the most desirable art on the market, which helps us identify some of the best selling oil paintings we want to be sure to offer to our customers."
overstockArt.com is one of the web's most successful distributors of wall décor items with more than 20,000 daily visitors and 120,000 loyal customers. The online art gallery offers the most comprehensive selection of oil paintings and frames to choose from in the online oil painting industry — currently more than 100,000 decorating combinations — including works by Van Gogh, Monet, Picasso, Renoir, Klimt, O'Keeffe, Munch, Dali and much more. Follow overstockArt.com on Facebook at http://www.facebook.com/overstockArt.
# # #