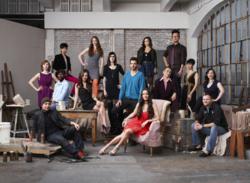 This collaboration will take overstockArt.com to the next level by leveraging our commitment to creating high-quality, affordable art with Magical Elves' dedication to discovering today's hottest up-and-coming artists and jointly bringing quality products
Wichita, KS (PRWEB) November 10, 2011
overstockArt.com announced today that it has joined forces with Bravo and Magical Elves to launch a new line of artwork from the cable network's series "Work of Art: The Next Great Artist." The exclusive line of reproduced artwork is created by the artists participating in the creative competition series produced by Magical Elves and Pretty Matches Productions.
The artwork featured in "Work of Art: The Next Great Artist" will be made available for purchase exclusively on overstockArt.com following airing of new episodes each Wednesday. Reproduced artwork created by artists who competed in the first season of the show will also be made available for purchase. The new line will debut on Thursday, Nov. 10 at overstockArt.com/workofart.html.
Bravo's "Work of Art: The Next Great Artist" is a creative competition series that seeks to discover new talent and shed light on the artistic process that typically occurs behind closed doors. Assembled in New York City under the watchful eye of art world elites, 14 up-and-coming artists are ready to make their mark on the industry and battle it out for a solo show at the Brooklyn Museum and a cash prize of $100,000.
"We're constantly looking for ways to innovate, furthering the proliferation of our brand while providing added value for our customers," said David Sasson, CEO of overstockArt.com. "This collaboration will take overstockArt.com to the next level by leveraging our commitment to creating high-quality, affordable art with Magical Elves' dedication to discovering today's hottest up-and-coming artists and jointly bringing quality products to market."
The "Work of Art: The Next Great Artist" canvas transfer art reproductions will be offered in a variety of sizes with prices starting at $119. Customized frames can also be purchased. Reproduced artwork is first available exclusively on overstockArt.com and will later be made available for purchase by overstockArt.com's partner online retailers.
"This partnership builds on the success of both brands, providing us the unique opportunity to engage with our fans and viewers and to connect with consumers beyond the television screen," said Ellen Stone, Senior Vice President of marketing for Bravo.
"Work of Art: The Next Great Artist," is produced by Pretty Matches and Magical Elves for Bravo. Dan Cutforth, Jane Lipsitz, Sarah Jessica Parker, Alison Benson and Eli Holzman serve as executive producers.
About overstockArt.com
Founded in 2002, overstockArt.com is one the web's most successful distributors of wall décor items with more than 20,000 daily visitors and 120,000 loyal customers. With more than 60,000 oil paintings and decorative ceramic tiles and more than 100,000 wall décor combinations to choose from in stock at all times, overstockArt.com has become a premier shopping destination for fine art reproductions online. The Wichita, Kan. based online art gallery was named to Inc. Magazine's 2010 and 2011 Inc. 5000 lists, Internet Retailer magazine's inaugural Second 500 Guide and was recognized with the STELLAService Seal for excellent customer service. For more information, visit overstockArt.com/press-room.html.
About Bravo
Bravo is a program service of NBCUniversal Cable Entertainment, a division of NBCUniversal, one of the world's leading media and entertainment companies in the development, production, and marketing of entertainment, news and information to a global audience. Bravo has been an NBCUniversal cable network since December 2002 and was the first television service dedicated to film and the performing arts when it launched in December 1980. For more information visit http://www.bravotv.com. Follow us on Twitter at https://twitter.com/BravoPR.
About Magical Elves
Magical Elves is the production team behind some of the highest quality reality programming on television. Since the company was founded in 2001, Dan Cutforth and Jane Lipsitz have been nominated for numerous Emmys, culminating in a win in 2010 for Outstanding Reality Program or Competition for "Top Chef. Current Elves series include "Top Chef: Texas," "Work of Art: The Next Great Artist," "Top Chef Masters," "Around the World in 80 Plates" and "Paint the Town" for Bravo, "Braxton Family Values" for WEtv, "The Real L-Word" for Showtime and "Fashion Star" for NBC.
About Pretty Matches
Founded by Emmy & Golden Globe award winning actress and producer, Sarah Jessica Parker, Pretty Matches Productions has an overall production deal with HBO and has numerous projects in development at the network. As well, season two of WORK OF ART: THE NEXT GREAT ARTIST premiered on Bravo this October, and the company has many feature films, documentaries and docu-series in development and production.
###