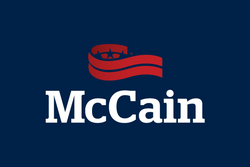 Bringing in a branding company like OVO with a distinctly non-political approach was key to the rebranding effort—and a brave move.
Phoenix, AZ (PRWEB) February 23, 2010
OVO, a leading branding consultancy, today announced the launch of the new John McCain brand identity and Web site.
Senator McCain's new branding capitalizes on his widespread name recognition, which affords him, unlike many candidates, to speak less about himself and more about national and state-level issues relevant to Arizona residents. The Web site in particular provides a forum for such discourse.
"We crafted the entire brand to assist visually in developing a meaningful conversation between Senator McCain and the people of Arizona," stated OVO principal partner, Ryan Durant. "During the presidential campaign, many didn't feel as though the large-scale format emphasized the 'town hall' approach to politics for which McCain is so well known. The information architecture and design of the new Web site and brand identity provide for him a 'virtual town hall' so-to-speak."
Included in the new Web site is a prominent blog where "both sides" of the conversation are heard, timely issues are discussed, and there is even a wall of supporter videos, where individuals may produce and send in their own videos for inclusion.
"Political campaign marketing has traditionally been done exclusively by political marketers…" remarked OVO partner, Kyle Hildebrant. "Bringing in a branding company like OVO with a distinctly non-political approach was key to the rebranding effort—and a brave move. Credit Internet director, Corey Vale and the entire McCain staff. Collectively, we managed to come to a solution that is appropriate, but well crafted and distinctive. The overwhelmingly positive feedback we've received thus far is 'proof of concept.'"
Durant added, "The political world had better take note of what the business world has known for years: The presentation of a message is as critical to its reception and resonance as the content itself."
About OVO
OVO is a branding consultancy specializing in naming, visual identity and integrated marketing for businesses seeking to launch, grow or reinvent themselves. Recognized for their deep knowledge of brand positioning and a true advisory approach to client service, OVO provides branding from concept to implementation for clients in a broad range of industries. The agency's strategic branding expertise spans disciplines from brand management, to naming, visual identity, advertising, collateral and interactive design. OVO's founding philosophy is centered on design as a functional, relevant, compelling and clear cornerstone of serious brands—and ultimately "where brands are born".For more information visit: http://www.brandsbyovo.com
###