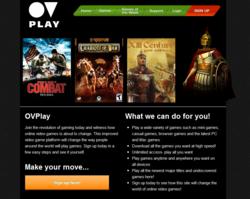 Miami, Florida (PRWEB) May 20, 2012
OVPlay.com will attempt to change the video game industry in 2012 with its launch. Downloading and playing games has never been as easy as with this website, with over 1600 selections to choose from, all you need to do is sign up to a monthly subscription to get unlimited access to the library of games. Any members can download any games they want directly to their PC or mobile devices without putting in any payment information, making the process seamless and lighting fast. OVPlay.com makes downloading and playing games extremely simple to allow members to enjoy the site without any hassle.
OVPlay.com has over 1,600 video games including hit titles such as HitMan, Tomb Raider with more being added every week. For a small monthly fee, members can get unlimited access to games in every genre imaginable such as RPG, shooter, arcade, fantasy, action, racing and many more. Members will only need to download a lightweight application to their desktop to manage their download and the games will be queued automatically. This will allow the members to play games within a minute across multiple devices and even multiple computers.
For more information, please contact them at pr(at)LetsPlayVentures(dot)com.
OVPlay.com is owned and operated by Crop (LetsPlayVentures.com). LetsPlayVentures inspires to bring you the latest browser games, free to play games, casual games and downloadable games. They currently have several other video game related services and are expanding into other area of online entertainment. To contact LetsPlayVentures, please email them at pr(at)LetsPlayVentures(dot)com or visit http://www.LetsPlayVentures.com