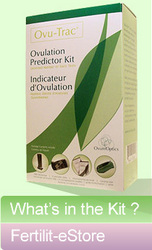 I felt like nobody could answer my questions - my doctors were too busy or didn't know the answers, my friends told me to relax and my mother just offered me more tea
Hanna, AB (PRWEB) June 18, 2009
OvumOptics, Inc.'s Ovu-Trac® Ovulation Predictor Kit, which allows women and couples to predict ovulation with 96.2% accuracy via a simple home saliva test, is now available for sale in the United States. Based on research extending back to the 1940s, this fertility predictor kit allows women to determine their personal fertile days by tracking and viewing saliva samples in the privacy of their own homes. Unlike one-size-fits-all fertility calculators, Ovu-Trac® measures changes in a woman's individual fertility cycle. Successfully used by tens of thousands of women throughout Canada since 1996, the Ovu-Trac® has now met all of the regulatory requirements to be legally sold in the United States. It is available through the website http://www.ovu-trac.com/.
Why Women Need an Accurate Fertility Calculator
It is a myth that most women have a 28-day menstrual cycle, and unfortunately most fertility calendars base their ovulation calculations on this misinformation. The Ovu-Trac® allows women to predict when they are fertile regardless of their cycle lengths. Most ovulation tracking kits tell a woman to begin testing on Day 11 of her cycle (counting forward from the first day of menstruation). However, ovulation is best measured by counting backwards from the first day of menstruation - counting forward is only useful for those with the "average" 28-day menstrual cycle. As a result, many women following these instructions will ovulate well before or after Day 11, and miss their fertile phase altogether - literally "flushing" their money down the toilet! The Ovu-Trac® offers women an individually focused approach to ovulation prediction based on actual information, not on probabilities applied to the mythical "average woman."
How Ovu-Trac® Works
When a woman enters her fertile phase, high estrogen levels cause her mucus membranes to secrete more bio-salts in cervical fluid, nasal fluid, tears and saliva. These fluids, when dried and viewed through a microscope, appear crystallized or "ferned" during a woman's fertile phase. The Ovu-Trac® was designed specifically to measure bio-salt concentrations in saliva that indicate a transition from a non-fertile to a fertile state in women.
Ovu-Trac® Meets all Health Canada and U.S. Food and Drug Administration Requirements
The Ovu-Trac® ovulation test and predictor kit is considered an in-vitro diagnostic medical device (ivdd) by both Health Canada and the Food and Drug Administration in the United States. Both government agencies have stringent regulations that medical device manufacturers and distributors must meet to legally sell their products to the public. Unlike many other saliva fertility testers offered online, Ovu-Trac® is a licensed medical device in Canada and is manufactured in an establishment that is registered with the Food and Drug Administration in the United States. More importantly the Ovu-Trac® is manufactured to meet the needs of women safely and effectively. After many years of adherence to Canadian regulatory requirements, OvumOptics sought and obtained clearance from the FDA to sell the Ovu-Trac® in the United States in 2008.
About OvumOptics, Inc., Maker of the Ovu-Trac® Ovulation Predictor Kit
OvumOptics, Inc. president and founder Colleen Biggs struggled for years to obtain accurate, reliable information about even basic fertility issues. "I felt like nobody could answer my questions - my doctors were too busy or didn't know the answers, my friends told me to relax and my mother just offered me more tea," she says. "I began developing the Ovu-Trac® Ovulation Predictor Kit with the goal of providing women with a product that would include not only a valuable tool for predicting fertility, but also supportive literature to help them to both understand and re-connect with their bodies."
To order Ovu-Trac® or learn more about the kit, how it works, ovulation prediction and other fertility issues, please visit http://www.ovu-trac.com, or contact OvumOptics, Inc. at (403) 578-3055.
# # #