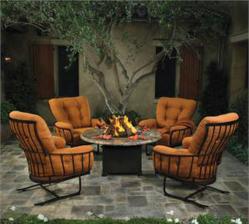 OW Lee Casual Furniture is Proudly Made in the USA!
Chicago, IL (PRWEB) August 16, 2012
Priding themselves on being, "your source for outdoor living," FurnitureForPatio.com has made it their goal to carry top tier manufacturers, many of which are Made in the USA companies, and provide their customers with an always expanding selection of patio furniture across a variety of types, styles, and applications. This summer, Furniture For Patio is more than excited to be able to add OW Lee's full 2012 catalog to their growing number of collections and will continue to add new products into the 2013 season. An American based company that is committed to quality and provides patio enthusiasts the world over with beautifully handcrafted OW Lee wrought iron and wrought aluminum furniture; many of which showcase pieces that seamlessly blend art and functionality. In the development of this artisan crafted furniture, OW Lee received the 2010 Manufacturer of the Year award from the International Casual Furnishings Association, and the second generation of Lee's won the Lifetime Achievement Award back in 2008. This award-winning manufacturer also offers up a variety of fire pits and unique tables amongst its selection of seating-based collections, leaving no facet of patio furnishing uncovered.
OW Lee's artisan crafted furniture is made from only the highest-quality metals and fabrics to insure long lasting durability, and galvanized steel, carbon steel, and 6061 alloy aluminum is meticulously chosen for its superior strength and rust/corrosion resistance. These materials are forged by hand and bent to exact specifications using centuries-old techniques, such as hammer and anvil, combined with new state of the art equipment. The end result is 7 wrought iron collections and 5 wrought aluminum collections that are all equal parts stunning, durable, and comfortable. From the Wrought Iron Classico Collection, which is noted as the largest collection from OW Lee's catalog, to new to 2012 wrought aluminum collections Tamarack and Vista, masterful craftsmanship and attention to detail shines through, creating a variety of beautiful seating options.
The Wrought Iron Line of casual outdoor furniture is one that features intricate hand-forged scrollwork and gracious curves as a hallmark element and each of the 7 wrought iron collections at FurnitureForPatio.com showcase one, the other, or both somewhere on each individual piece. The San Cristobal collection is one that offers the most ornate elegance to your outdoor living space, featuring arm scrolls and back design that is reflective of the passion and romance of the Spanish Baroque style, while the Monterra wrought iron collection is all about the embracing curves that wrap around your body for a warm and welcoming feeling. OW Lee's wrought iron line also includes 3 collections that are a new twist on classic outdoor wrought iron mesh furniture. The Avalon, Silana, and Heartland collections all make use of OW Lee's diamond mesh construction on both the back and seats, with the Silana and Avalon showcasing that pattern in a smaller, tighter together form known as Micro-Mesh. Custom cushion options are available across all 7 wrought iron collections, allowing you to choose from no cushion (an option for the wrought iron mesh collections), padded seat and/or back cushion, and The Palazzo Collection is all about full deep seating cushioned comfort.
Not to be outdone by its steel-based sibling, OW Lee's Wrought Aluminum line offers many of the same elements as the wrought iron line, with collections like the Ashbury and Montrachet even able to capture the intricate details and scrollwork of wrought iron in aluminum form. The newer additions of Tamarack and Vista bring deep seat construction to wrought aluminum, with the Vista providing a more traditional look and the Tamarack better suited for more contemporary patios with its wider, minimalistic fame. In mentioning contemporary, one cannot overlook the unique resort-like style of the Luxe 30 Collection; a stand-out from OW Lee that focuses on modular units to create a nearly endless number of seating arrangements. Like the Wrought Iron collections, the wrought aluminum collections also include custom cushion options from padded seat cushion to full deep seat cushions, and these cushions are offered in nearly 80 different fabric colors and/or patterns for you to best match your beautiful seating choices with the rest of your patio's decor and style.
In addition to these two main lines of furniture, OW Lee also offers a very specific bistro collection which features chairs across seven different styles perfect for residential and commercial applications. Ideal for smaller patio spaces, the OW Lee Bistro collection features dining height chairs as well as bar, counter, and pub height stools in both stationary and swivel form, and they are developed with OW Lee's variety of tables in mind. These tables are offered in such looks as stone-alternative, mesh/micro mesh, hammered copper, porcelain tile, and more for creating a centerpiece surface that is unique to your patio environment.
Whether choosing wrought iron, wrought aluminum, or something from the Bistro collection, all OW Lee furniture is offered in the company's 9 frame finish colors, which helps to strengthen each piece of furniture while also providing a brilliant and fresh alternative to otherwise traditional metal color. The frame of each piece of OW Lee casual metal furniture is also backed by an unprecedented 20 year frame warranty, yet another example of the company's dedication to their craft and to the consumers wants and needs.
Having tested out several of the seating options offered from the 13 total collections, FurnitureForPatio.com believes in OW Lee's trademark slogan of "Passion Crafted Comfort" which is why they are proud to be able to offer the complete 2012 catalog to their customers, a catalog that includes dining chairs, club chairs, love seats, sofas, chaise lounges, and more. Browse for yourself and visit http://www.furnitureforpatio.com for all of OW Lee's hand-crafted casual furniture as well as several patio, dining, and outdoor living room/lounge sets.