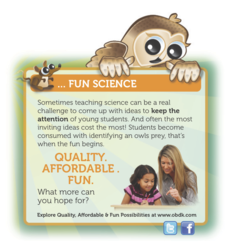 Each year I work hard (using my own funds) to set up a classroom museum. Fuel costs have eliminated field trips...and this might be their only exposure...
Cheyenne, WY (PRWEB) May 25, 2011
Given the opportunity, most elementary school teachers would accept a free gift on behalf of their students. That's the idea that Owl Brand Discovery Kits learned when re-introducing a program to help the neediest classrooms across the United States through grants for products throughout the school year.
When Mary Wells of Buffalo Trail Elementary School in Aurora, Colorado submitted a request to Owl Brand's Finding Funding initiative, it was her expressed frustration that caught Owl Brand's eye. "Each year I work hard (using my own funds) to set up a classroom museum. Fuel costs have eliminated field trips...and this might be their only exposure - kids love science and few teachers enjoy it enough! What else do you have?"
For a company with it's own modest beginnings, Owl Brand's President, Chris Anderson states, "We're excited to help where we can. There are larger issues at stake when the quality of math and science are undermined by a lack of resources. While we can argue about the appropriateness of canceling arts and other important learning opportunities, there is undeniable repercussions from the absence of effective science education. We want to be a part of solutions." Owl Brand Discovery Kits is an online retailer of science education material that focuses on sterilized owl pellet dissection labs, gaining notoriety through a 2005 Canada National Geographic Best Resources Award and years of returning customers.
"Every year we are inundated with requests for free product for needy classrooms. It's heartbreaking to not be able to give to every one of them. For that reason, I re-evaluated Finding Funding for Teachers and, combined with our Facebook page, determined that we could begin building inroads to teachers and also demonstrate the values of our business---serving others. Mary's our third recipient since March and we couldn't feel more honored to help her classroom out. But it hinged on her willingness to seek out the solution. Honoring that is essential."
That's why Mary Wells received the May Finding Funding Grant from the Wyoming based small business, the third grant to teachers in as many months. Anderson further states, "My goal is, of course, to sell a lot of product. That is exclusively how we do more for teachers, not only through adding value in our produce selection and material, but in inspiring them that the public cares about their success in the classroom. That's worth investing in."
You can learn more about Owl Brand Discovery Kits at their website or on their Facebook page by visiting http://www.Facebook.com/OwlBrand. Grant requests are considered on a monthly basis and past recipients have included Anna Ricks of Portland (Oregon) Public Schools' Indian Education Project and Jim Harrigan of South Side Elementary School in Bristol, Connecticut. Submissions can be done online at http://www.obdk.com where readers will find the link and other valuable resources for teachers.
###