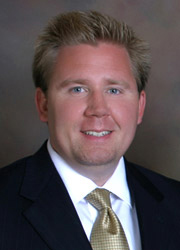 (PRWEB) August 02, 2011
The Owners' Counsel of America is pleased to announce that Michael B. Phillips of Moffitt & Phillips, PLLC in Little Rock, Arkansas, has joined the Owners' Counsel as the Arkansas member-attorney dedicated to representing Arkansas landowners in eminent domain actions. Moffitt & Phillips, PLLC, is a Little Rock law firm devoted to serving the legal needs of the citizens of Arkansas. The firm provides legal services statewide in the areas of eminent domain/condemnation, personal injury, commercial litigation, and criminal/DWI defense.
"As the abuse of eminent domain has escalated across our country and the constitutional guarantee of private property ownership has been threatened, it is essential that property owners have access to experienced condemnation attorneys in every state," said Catherine Newman, Owners' Counsel of America Executive Director. "We are pleased to welcome Michael Phillips as the Arkansas Member of the Owners' Counsel of America and to assist him and his firm with any resources we can provide to protect the private property rights of Arkansas landowners."
Michael, a life-long resident of Arkansas, grew up in Lawrence Co. on his family's rice, soybean and wheat farm where he learned the value of hard work, determination, perseverance, loyalty, and the importance of private property rights. Upon completing his law degree at the University of Arkansas at Little Rock, Michael joined with Brandon K. Moffitt to form Moffitt & Phillips, PLLC. The firm focuses its eminent domain practice upon exclusively representing the interests of landowners in condemnation and real property rights litigation. As a team, Michael Phillips and Brandon Moffitt have assisted property owners across Arkansas navigate the complexities of condemnation from initial offer through trial. In 2010, Moffitt & Phillips secured for their client the largest-ever jury verdict in a condemnation trial in Arkansas.
ABOUT OWNERS' COUNSEL OF AMERICA:
The Owners' Counsel of America, http://www.ownerscounsel.com, is a nationwide network of experienced eminent domain attorneys dedicated to protecting the rights of private property owners large and small, locally and nationally, and to advancing the cause of property rights. The lawyers affiliated with Owners' Counsel are in private practice in nearly every state and represent property owners against federal, state, and local governments, utilities, redevelopment authorities and other entities that may be armed with eminent domain power.
###