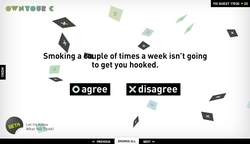 Own Your C 2.0 is a quantum step forward for public health. It allows youth to learn from each other about important issues
Denver, Colo. (PRWEB) December 3, 2008
Cactus, a Denver-based advertising agency, has launched Own Your C 2.0, an evolution of the Own Your C campaign focused on empowering teens to own their choices and recognize the consequences of those choices, including how they relate to tobacco use.
"Teens' choice to use tobacco is impacted by other factors, including culture, education, environment, exercise, nutrition and relationships. We're fortunate to have the support of the Colorado State Tobacco Education & Prevention Partnership (STEPP) to approach tobacco prevention in a non-traditional way, by addressing the wide array of connected choices that youth are confronted by every day," said Joe Conrad, Cactus founder, CEO and strategic director. "We are very proud of the impact and influence the Own Your C campaign has had over the past three years. Now, it's about leveraging that momentum, allowing teens to build an even stronger and more relevant peer-driven community around Own Your C."
The fully integrated Own Your C campaign spans across multiple consumer touch points, including ownyourC.com (http://www.ownyourc.com ), TV commercials (http://www.youtube.com/user/ownyourchoices ), online rich media banner ads, school outreach, events and viral promotional items, to reach teens in new and creative ways.
ownyourC.com remains the hub of the Own Your C campaign. Created in collaboration with AgencyNet, the site is a rich online community that encourages teens to share, connect and influence conversations with peers about the choices they face every day.
Topics ranging from nutrition and tobacco use to saving the environment and the existence of UFOs result in colorful debate and self-expression that truly leverage the power of peer influence on decision-making and behavior. Teens express their choices via highly customized interactions within the online teen community in the form of text, photo, image or video entries.
An elaborate filtering system allows teens to connect with others in a way that is most meaningful to them, whether it is by age, gender, response or location. Community interactions are moderated to ensure a safe online environment for teens while providing a place for honest conversations. The site features an Own Your C events calendar, contests, tobacco facts and resources, and a link to FixNixer, an online program to help young people quit tobacco.
"Own Your C 2.0 is a quantum step forward for public health. It allows youth to learn from each other about important issues," said John McCracken, Cactus account director for Own Your C. "We generate topics to spark the discussion, set-up some basic rules and turn it over to the youth to take it from there."
Produced in partnership with New York-based Lifelong Friendship Society, a series of five of 15-second TV commercials meld live action, stop-motion animation and colorful design to bring the benefits of ownyourC.com to life in engagingly unpredictable ways. Online rich media banner ads give teens a glimpse into the interactive experience of the site and drive them to the site to learn more.
Grassroots outreach complements the campaign's media components. The C-Ride, a custom designed ice cream truck armed with a street team, extends the Own Your C brand by touring the state to talk to teens about choice-making; inviting teens to participate in the ownyourC.com 2.0 community via video interviews; handing out customized promotional materials including t-shirts, hats, stickers and magnets; and educating teens about quitting tobacco with quit kits and FixNixer (http://www.fixnixer.com ), an online program that uses email and text messaging to help young people quit tobacco.
Own Your C is developed in partnership with STEPP and is funded by Amendment 35 (the 2004 voter-approved tobacco excise tax designated for public health programs).
About Cactus:
Founded in 1990, Cactus is an award-winning branding agency that grows companies through advertising, design, interactive, media services and public relations. Cactus' client roster includes Colorado Department of Public Health and Environment (CDPHE), Colorado Lottery, Westwood College and University of Colorado Hospital, to name a few. The agency has been recognized for its work on behalf of CDPHE, including Own Your C, Quit Doing It, Smoke-Free Colorado and ONE Step with international accolades from prestigious industry awards including The One Show, SXSW, The Webby's, FWA, AdCritic, CommArts, Advertising Age, The Denver 50 and Art Directors Club of Denver. In 2006, Cactus partnered with the State Tobacco Education & Prevention Partnership to invent FixNixer, an innovative tool to help young people quit tobacco using online and text messaging technology. To learn more about Cactus, visit http://www.sharpideas.com .
###