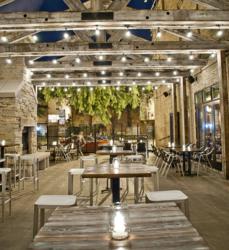 "As one of Chicago's premier restaurants, Frontier is helping set the trend of eating seasonal, local fare"
Chicago, IL (PRWEB) December 13, 2012
Louisiana-born kitchen genius Chef Brian Jupiter has a challenge for Chicago's many self-proclaimed foodies. Jupiter, the mastermind behind Michelin recommended-Frontier, invites epicureans to flaunt their mature palates by entering to win a gourmet, exotic, five-course tasting and pairing for four at Frontier, worth over $500.
Through this special offer, Frontier has teamed up with Ox&Pen, Chicago's loyalty network for small businesses. Both Chef Jupiter and Andrew Gluck, Ox&Pen founder and CEO, have particular interest in locally-sourced meals and products, as well as supporting the growth of independently-owned and operated businesses. Joining Frontier and Ox&Pen in offering the one-of-a-kind meal, is Tasting Table, the adventurous eaters' guide to the best food and drink in the city.
The tasting and pairing for the winner and three guests will be conceptualized and prepared by critically acclaimed Chef Jupiter. Worth over $500, the spread will feature a masterful collection of wild game and exotic eats paired with signature cocktails for a night of culinary adventure.
The winner will be chosen on Friday, December 28. For more details, interested gourmands can enter the contest here.
"As one of Chicago's premier restaurants, Frontier is helping set the trend of eating seasonal, local fare," Gluck said, "This is a philosophy is in keeping with the Ox&Pen mission to drive business to the small, local establishments that are such an important part of neighborhood character."
About Frontier
Frontier is a warm, multi-level space replete with a 40-foot bar, private party room, open-air kitchen and beer garden. The West Town tavern features state-of-the-art ice taps with 16 seasonal and traditional beers, over 20 varieties of canned and bottled beers, specialty cocktails and wine pairings. Grab dinner and drinks on the main level and then head upstairs to the lounge to watch your favorite game and enjoy live DJs on the weekend.
Executive Chef Brian Jupiter has created "farm-to-table" dishes celebrating American contemporary cuisine, blending game and other seasonal ingredients into classic and approachable fare. Frontier's menu also features up to 20 varieties of oysters as a signature offering to order a la carte with dinner or to enjoy with a bucket of beer at the bar. For large groups, Frontier can smoke an entire pig, lamb, goat or wild boar for the ultimate Frontier flavor experience.
The 2,500 square-foot outdoor beer garden, a charming patio separated by floor-to-ceiling windows, is fully winterized and open year round with a full service bar and food service.
About Ox&Pen
Ox&Pen is the first-of-its kind, smartphone-driven universal loyalty network that rewards customers for shopping and dining at small, local merchants. Loyalty points are earned with every dollar spent, check-ins, social shares, inviting friends, and can be redeemed for rewards at any merchant in the Ox&Pen network. In addition to the loyalty rewards, members have unlimited access to promotional offers that require no upfront purchase or printing of vouchers to redeem. Points and promotions can be redeemed conveniently using the free Ox&Pen mobile app for iPhone® or Android™. Membership is free. Visit http://www.oxandpen.com to learn more.
# # #