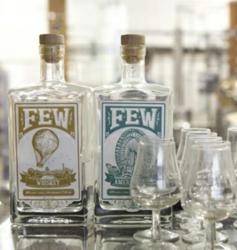 In addition to the $5 Porktonic cocktail, Ox&Pen members will receive 15% off their entire bill and double loyalty points for check-ins and social shares that evening.
Chicago, IL (PRWEB) May 01, 2012
Ox&Pen, Chicago's mobile-based universal loyalty network, announced a complimentary tasting of FEW Spirits whiskey and gin on Wednesday, May 9, at 7 p.m. at Porkchop, located at 941 W. Randolph.
The tasting will feature the top five spirits from Evanston-based FEW: FEW Rye Whiskey, FEW Bourbon Whiskey, FEW White Whiskey, FEW American Gin, and FEW Standard Gin. Guests will also have the opportunity to sample the featured "Porktonic" cocktail, which will be available at a promotional rate of $5 for Ox&Pen members.
In addition to the $5 Porktonic cocktail, Ox&Pen members will receive 15% off their entire bill and double loyalty points for check-ins and social shares that evening. For access to these promotional offers, simply download the Ox&Pen app for iPhone® or Android™, and complete the membership registration.
Guests are also invited to enter a raffle for the chance to win dinner for two at Porkchop, the BBQ and whiskey hot spot in the West Loop. All proceeds from the raffle will be donated to Chicago-based Girls in the Game, the organization providing and promoting sports and fitness opportunities, nutrition and health education, and leadership development to enhance the overall well-being of girls.
"The mission of Ox&Pen is to encourage local shopping and dining," Ox&Pen founder and CEO Andrew Gluck said, "We're excited to be part of this event that gives Chicagoans a taste of three, standout local companies."
Further event details can be found on the Ox&Pen Facebook page.
About Ox&Pen
Ox&Pen is the first-of-its kind, smartphone-driven universal loyalty network of unique Chicago merchants and the customers who love them. Members in the network earn points for full-price purchases, check-ins and social shares. Additional points can be earned for inviting friends who become members. The points are good toward rewards at any merchant in the Ox&Pen network. In addition to the loyalty rewards, members have unlimited access to promotional offers that require no upfront purchase or printing of vouchers to redeem. Points and promotions can be redeemed conveniently using the Ox&Pen mobile app for iPhone® or Android™. Membership is currently free. Visit http://www.oxandpen.com to learn more.
About Girls in the Game
The mission of Girls in the Game is to enhance the health and overall wellness of girls, accomplished by addressing the needs of the "whole girl," integrating sports and fitness, nutrition and health and leadership programming. The Chicago-based organization was founded in 1995 and has since emerged as a leading girls' health and fitness organization and offers a variety of year-round programs. Girls in the Game empowers more than 3,000 girls to make healthier choices and develop the confidence and leadership skills they need to succeed on and off the field.
About FEW Spirits
Few Spirits is proud to be the first legal distillery established in Evanston, Illinois, the home of the temperance movement. Their spirits—Bourbon Whiskey, Rye Whiskey, White Whiskey, American Gin and Standard Issue Gin—are handcrafted gestures to an older time of drinking, embodying a tradition of quality liquor. Every batch is distilled from the very best grains, bottled in-house and handled with the utmost care. Come see...and taste...for yourself.
Contact:
Christy Lukes
312.470.6670
christy(at)oxandpen(dot)com