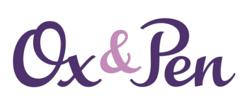 "Because Ox&Pen is Chicago's first truly universal loyalty network, we want to welcome everyone and make sure members are well acquainted with the platform's many distinct advantages."
Chicago, IL (PRWEB) April 17, 2012
Ox&Pen, Chicago's mobile-based universal loyalty network, announced it is hosting an event this Thursday, April 19, at 7 p.m. at Roots Pizza, located at 1924 W. Chicago. Members of the network are invited to redeem promotions for half-price bottles of wine and 10% off the entire check. Complimentary snacks will be available to guests for a limited time and drinks sponsored by Jameson will be served starting at 9 p.m.
Ox&Pen members will earn double loyalty points for checking in with the Ox&Pen mobile app on the evening of the party. Upon sharing the check-in on Facebook and Twitter, each member will earn points and be entered into a drawing for the chance to win a Kindle Fire.
Guests are also invited to enter a raffle for the chance to win a $100 gift certificate to Roots Pizza. Proceeds from the raffle will be donated to Alliance for the Great Lakes.
For access to the party and the promotional offers, simply download the Ox&Pen app for iPhone or Android, and complete the membership registration. Members have unlimited access to promotional offers from local merchants that require no upfront purchase or printing of vouchers to redeem.
"This Thursday is a great chance for members to take advantage of great promotional offers from Roots Pizza and see how the mobile app works," Ox&Pen founder and CEO Andrew Gluck said, "Because Ox&Pen is Chicago's first truly universal loyalty network, we want to welcome everyone and make sure members are well acquainted with the platform's many distinct advantages."
About Ox&Pen
Ox&Pen is the Chicago-based, smartphone-driven universal loyalty network of unique, local merchants and the people who love them. Membership is currently free, and members have unlimited access to exclusive promotions and loyalty points redeemable with any Ox&Pen merchant. Limited time offers are available for merchants and members. For more information, find Ox&Pen on Facebook or visit http://www.oxandpen.com.