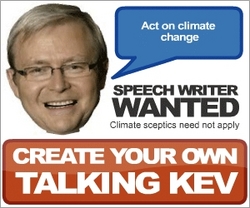 "We think visitors to the site will have no trouble with getting creative and also delivering a serious message to Kevin Rudd that we must act on climate change."
(PRWEB) December 14, 2009
Oxfam Australia has launched a new innovative and humorous web site, Talking Kev as part of its Climate Change campaign. The site allows users to create their own animated speech for Kevin Rudd by putting together some of his more memorable audio clips. Visitors can then send their speech as an animated ecard or submit it to a public gallery to share the fun with everyone.
Talking Kev has been launched to run at the same time as the United Nations Conference on Climate Change in Copenhagen. People using the site take on the role of the hapless assistant who spills coffee all over the Prime Minister's speech 15 minutes before he's due to deliver it at Copenhagen. To save their bacon, the assistant has to rewrite the PM's speech before he notices.
Oxfam Australia's National Campaigns Coordinator, Grant Hill, said that the site encourages visitors to use some creative license to write the speech they really want the PM to make at Copenhagen.
"We think visitors to the site will have no trouble with getting creative and also delivering a serious message to Kevin Rudd that we must act on climate change. There are almost one hundred phrases they can use, ranging from serious climate change policy, to some of the PM's more seriously colourful utterances," Mr Hill said.
The light hearted nature of the website and the use of social media such as blogs, Facebook and Twitter has been designed to draw in people who may not be attracted to more traditional campaigns.
"Everyone has wanted to put words in the PM's mouth at some stage. Letting people have a bit of fun with Talking Kev is a great way to get people talking about climate change action during the Copenhagen talks," Mr Hill said.
Go to: http://www.talkingkev.com
Why is Oxfam involved in climate change? Because climate change hits the world's poorest first and worst.
It's usually the science and politics of climate change that dominate the headlines —emission targets, carbon trading schemes, hotter temperatures, worsening floods and cyclones, rising sea levels and more severe droughts.
But behind the headlines are the very real impacts that climate change is already having on the day-to-day lives of people living in poverty — impacts that aggravate existing pressures and make the daily struggle for survival even harder.
One of the biggest human impacts of climate change is likely to be increased hunger. Rice and maize, two of the world's most important crops, face a significant drop in yields even under mild climate change scenarios. Maize yields are forecast to drop by 15 per cent or more by 2020 in much of sub-Saharan Africa and in most of India. Many millions of people depend on those crops. Climate change puts their survival at risk.
What is needed at Copenhagen?
Copenhagen must lay the foundations of a fair, ambitious and binding climate agreement. The agreement must guarantee action in two key areas:

Binding emission reduction targets for rich countries - at least a 40 per cent cut in domestic emissions by 2020 relative to 1990 levels;
At least $200bn every year - in addition to overseas aid commitments - to help poor countries adapt to a changing climate and reduce emissions. Australia, as the highest per capita polluter in the world, needs to contribute US$4.6 billion to do its fair share.
For media enquiries, contact Laurelle Keough on 0409 960 100.
###