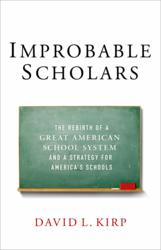 "Kirp's book has something for everyone, and it deserves the widest possible audience discussion." –Kirkus Reviews (starred review)
New York, NY (PRWEB) April 11, 2013
University of California (Berkeley) professor of education David L. Kirp spent a year observing the Union City school district and offers a compelling message about the importance of empowering the teachers and schools locally. As Kirp reveals in "Improbable Scholars," published this month by Oxford University Press, there's a sensible way to rebuild public education and close the achievement gap for all students.
Indeed, this is precisely what's happening in a most unlikely place: Union City, New Jersey, a poor, crowded Latino community just across the Hudson from Manhattan. The school district--once one of the worst in the state--has ignored trendy reforms in favor of proven game-changers like quality early education, a word-soaked curriculum, and hands-on help for teachers. When beneficial new strategies have emerged, like using sophisticated data-crunching to generate pinpoint assessments to help individual students, they have been folded into the mix.
"Improbable Scholars" offers a playbook--not a prayer book--for reform that will dramatically change our approach to reviving public education.