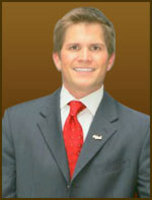 The site was created to serve as a new, all-in-one resource for buyers and sellers of Oxford properties and other real estate found in surrounding areas of Lafayette County, Mississippi
Oxford, MS (PRWEB) March 2, 2011
Showcasing the choicest properties offered in the Oxford, MS, real estate market, Realtor Andrew Stephenson has recently launched his interactive website, MoveToOxford.com. "The site was created to serve as a new, all-in-one resource for buyers and sellers of Oxford properties and other real estate found in surrounding areas of Lafayette County, Mississippi," says Stephenson.
Home to "Ole Miss"--the University of Mississippi--Oxford is a one-of-a-kind community that epitomizes the perfect blend of small-town charm and urbane sophistication. These unique qualities have landed Oxford in many "best of" lists, whether it's Top College Towns or Best Places to Retire, in publications like USA Today and Money Magazine, leading to its properties becoming highly sought-after among homebuyers.
"There's a broad range of residential options here inasmuch as we have a remarkably eclectic real estate market," Stephenson says. "With available properties ranging from new Oxford condos to elegant Greek Revival mansions and clean-lined Craftsman homes, there's a home for even the most discerning buyer here in Oxford."
Visitors to MoveToOxford.com will find a host of features that make it easy to navigate and find the properties they want. They can either browse listings of Stephenson's exclusive property offerings, or use a more detailed Oxford, Mississippi, home search engine that can let them narrow down specific choices, whether it's by location, property type, price range, and more.
In addition, the site provides many community links, from government agencies to schools, to important contact information. There are also guides and advice for buyers and sellers, as well as a regularly updated real estate news feed. Rounding up the site's features are Stephenson's personal blog entries, and a useful online mortgage calculator.
With his extensive knowledge of Oxford and surrounding areas in the Lafayette County region, coupled with his experience and community connections, Andrew Stephenson has helped many of his clients with their home buying and selling transactions. Known as a real estate leader, the proof of the quality of his service is in the referrals and repeat customers that make up a large percentage of his business. "I always strive to make the sale or purchase of a home as effortless and seamless as possible," he says.
For more information, visit MoveToOxford.com or get in touch directly with Andrew Stephenson today.
# # #